New Delhi

After the death of former Hurriyat Conference chief Syed Ali Shah Geelani, a video of the separatist leader is becoming very viral on social media. This video is proof of Geelani's love for Pakistan. He is saying out loud – 'We are Pakistanis, Pakistan is ours'.
This video clip going viral on social media is from 2008. In this, Geelani can be seen addressing a gathering. Thousands of people have gathered in this meeting. Geelani openly speaks with full enthusiasm – 'We are Pakistanis, Pakistan is ours'. Then he repeats this over and over again. The people gathered there behind him also repeat the same thing.

Syed Ali Shah Geelani: Imran played a trick on the death of Syed Ali Shah Geelani, then Twitter users explained it well
Syed Ali Shah Geelani, who led the separatist campaign in Jammu and Kashmir for more than three decades and pro-Pakistan, died at his residence on Wednesday night. He was 91 years old. Geelani is survived by two sons and six daughters. He remarried in 1968 after the death of his first wife. Separatist leader Geelani was suffering from kidney related ailment for more than two decades. Apart from this, he was also battling many other diseases related to aging. In 2010, he became the face of protests in Srinagar following the death of a youth.
Imran Khan, Mehbooba Mufti expressed grief
Geelani was a founding member of Hurriyat Conference. He had formed the Tehreek-e-Hurriyat in early 2000. Pakistan Prime Minister Imran Khan condoled the death of Geelani through his official Twitter handle.
Former Jammu and Kashmir Chief Minister Mehbooba Mufti tweeted that she was saddened by the news of Geelani's demise. "We may not have agreed on most things, but I respect him for his persistence and for sticking to his trust," she said. People's Conference president Sajjad Lone also condoled the death of Geelani.

Imran Khan spews poison on Geelani's death, half bowed Pakistan's flag
pakistan raised the flag
Pakistan observed a day of mourning on Thursday on the death of Geelani. Pakistan Prime Minister Imran Khan said, "The flag of Pakistan will be flown at half-mast on Thursday and we will observe a day of official mourning."
Kashmiri Pandits gave this reaction
Eminent journalist and Kashmiri Pandit Aditya Raj Kaul said that Geelani's death marks the end of a brutal chapter of bloodshed, violence and separatism in Kashmir. Geelani will be known for causing death and destruction in Kashmir, links to Pakistan and pushing Kashmiri youth into stone-pelting and terror. Hurriyat is over now.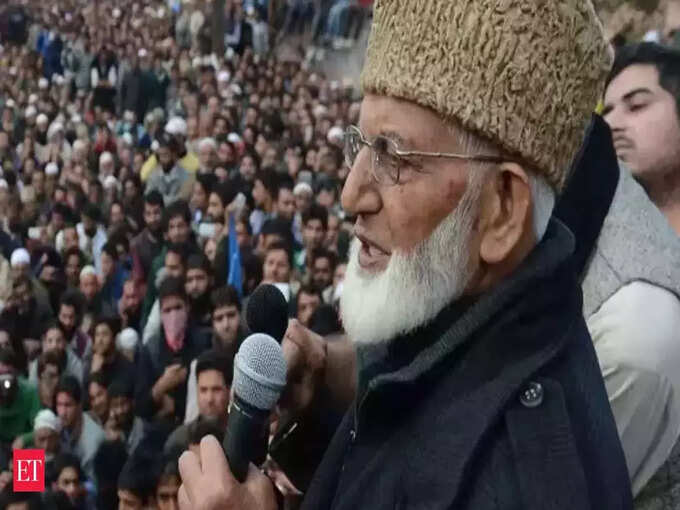 .