Alegna González (Ojinaga, Chihuahua, 22 years old) knows that the key to enjoying her first Olympic Games is to shield her mind. The pressure on Mexican athletes is triggered in events in which, historically, they have won a medal. González wants to win, like everyone else, but focuses on a transversal process of more than two Olympic cycles in the march. "Finishing in the top 10 is a big step, especially for the youngsters. Many people don't see that part, they only see the medals, "he tells EL PAÍS.
Alegna González grew up sheltered by athletics in Ojinaga. His uncles had a sports club where they trained children. "I liked to challenge them to races. I was not interested in other sports. In school he did not compete with girls, but with boys. She was very competitive, "says the marcher who had to train in the evening due to the extreme heat of northern Mexico.
"I got used to extreme climates. Something that is not in favor is that Ojinaga is a place with low altitude. Coming to Mexico City to live and train cost me a lot. The first days I travel I don't feel so good, "González says. Her mother, Yadyra, raised her with her grandmother, Angela. They are your two emotional pillars. "She decided to live her single life and I am proud of what she did for my brother and me. It was a show of empowerment because he knew how to move forward ", he explains. Alegna's backwards name is her grandmother's name.
When Alegna González shone, she had to move to Mexico City to boost her career and study. But his mother, who works in a customs agency, objected. "You don't go, you don't go," he told me. Half the family talked to her to let me go. I don't know how we managed to get him to get on a plane with me and take me to the capital ", says the graduate in Sports Sciences.
González stood out from a very young age. His first great success was when he won the 10,000 meters at the 2018 World Junior Athletics Championships. He also won at Pan-American tournaments and at the World Walking Championships he took gold in the 10-kilometer event. But he chose to participate in the 20-kilometer march. That same year he won the National Sports Award, one of the highest awards for Mexican athletes.
"Every day you train, you put load on your legs, you do your job. In a competition, not only the one who is prepared wins because everyone does. The last part of the competition is the one where you focus the most and fight to win. We are all in a constant struggle. Your mind helps you to the last part. And that has worked for me ", explains González. The Mexican set the mark for Tokyo with 1:30:21 hours in a championship in the Czech Republic, in 2019. Before the Olympic Games, Alegna González lowered her mark to 1:28:39 in a grand prix in La Coruña, in Spain.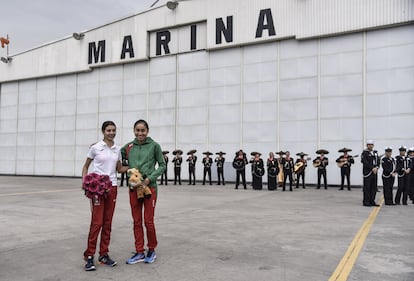 The emotional potholes have also affected the Mexican. "As a child I believed that everything was fine with a national Olympiad. Things turned out: I got to the Pan American Games, the World Cups, but before going to one of them I wanted to live my normal life. I saw that my friends had a normal young life. I wanted the same. I envied that my family had parties. At the end of it all I love the sport. My family made me see that I was in sports because I wanted to and nobody forced me, "says González.
The marcher is supported by the Mexican Navy as one of its naval athletes. It's not the only one. Dozens of athletes have joined the Armed Forces to maintain financial support. The country sees in the march one of its great Olympic sports. They have won 10 medals in the discipline. The only woman who has won one was Lupita González, who won the silver in Rio 2016. She was the great world champion of the discipline, but a doping scandal separated her from Tokyo 2020. Alegna González wants to take the baton.
Subscribe here to newsletter of EL PAÍS México and receive all the informative keys of the current situation of this country