A few years ago, in the middle of a training session for the women's soccer team, a player uncovered herself before a representative of the Federation. She asked for a new kit for her and her teammates. And wear your name on the shirt. They may seem insignificant details, but for those footballers they were not. They wore boy's clothes and were identified with a number at matches. "They ended up designing their own clothes themselves and choosing how they wanted to be dressed," they say from the Spanish Football Federation.
That was not ten or twenty years ago. It happened in 2017, when the women's football department was created in the federative body; Until then they depended on the futsal section. And that player, Jenny Hermoso (31 years old), the national team's top scorer, is today also the top scorer in the Iberdrola League, a competition she has won with Barcelona, ​​as well as being the European champion and the Queen's Cup, successes which have also earned him UEFA recognition as the best forward of the course. Hermoso already shows his name on the shirt and is a reference for many girls. The women's league returns this weekend (it opens with a Barcelona – Granadilla, at 12.00, this Saturday) when the football practiced by women in Spain is at its best.
They did not have players such as Jade Boho (34 years old, ex Rayo, today in Logroño), who as a child played it when she saw children playing a game in the street. "I had to take a risk and ask them, please, to let me play. They did not want. 'Leave me a moment, if I do very badly, I will leave the field.' They fought to have me afterwards ".
"When I was little, you didn't see girls playing in the street," says another veteran, Erika Vázquez (38 years old, Athletic). "At school there were just two of us, a friend and me. I looked for a futsal team, but we were not competing. Then I went to football 11 at the Lagunak. But since there were no lower categories, I immediately went to play in B. There you found everything, people of 20 and 35. You had no choice but to wake up ".
Boho played in a Rayo that this summer has had to face the squad of its players due to the delay in the signing of their contracts and that ten years ago he was one of the owners and lords of the then called Superliga, with the permission of Athletic, the Spanish or Levante. Nobody talked about them. "When we made a stop with the bus and people saw us all dressed the same, they asked us: Do you play handball? To basketball? The last thing they thought was that we were playing soccer. " At that time, without television, we won leagues and cups, we played the Champions League and nobody knew about us ".
If things have changed so much in recent years, if we are witnessing the emergence of soccer practiced by women in Spain – in the last five years federative licenses have practically doubled: there were 40,524, in 2015; They were 77,461, in 2020 (the last year for which there is data) – it is due to claims such as Hermoso's, by restless footballers such as Boho or Vázquez. But also because of the definitive commitment of the big clubs, especially Barcelona and Atlético, who have injected thousands of euros into their women's sections; and Madrid, who finally created their girls' team last season. For the investment of large companies such as Iberdrola, the league's main sponsor. And for the efforts of a new management team at the head of the Federation that today is chaired by Luis Manuel Rubiales.
"There are three factors that I think are determining for what is happening in women's football: it has a greater presence in the media, clubs are betting more and more and girls already have references", indicates Aitana Bonmatí (23 years old, FC Barcelona ), one of the emerging talents of Spanish women's football. "Today I see with the players of the national team something that was unimaginable for me before: girls waiting to have the autographs of their idols", confirms María Tato, Director of women's football at the RFEF since last summer.
There are many pending issues, including that of greater visibility, which is essential to attract sponsors. "We are in the phase of publicizing the product, consolidation is beginning," they indicate in the Federation. For the last final of the Copa de la Reina an agreement was reached with Mediaset: the match, a Barcelona – Levante, took place in prime time and offered a Compartir very high. "That opened the way for the interest of televisions," they acknowledge. Together with the Federation, all parties are working on it.
The one on TV is a fight in which the players are still hooked. It is claimed by Alexia Putellas (27 years old, FC Barcelona), voted best player in Europe by UEFA: "I have seen youth games advertised on television, campaigning two weeks before. And many times to see women's matches you have to think of them as you can to see it. It happens to me, that I want to see matches of colleagues by profession and I cannot because the information is not clear or they do not pass it ". That will change.
To begin with, the DAZN content platform will broadcast the Women's Champions League as of next season, a title that will be defended by Barça, whose magnificent and historic success this year could hardly be seen on television: only the final was seen open throughout the country .
That team, led by Putellas, the captain, broke taboos and fears. He achieved what no Spanish team before. In a few years, we will surely witness what Tato calls "the Barça Champions effect". Licenses will multiply. "Its success will generate that there are many more girls in Catalonia who want to be footballers. Until years ago, girls did not opt ​​for soccer as a school sport. He was very masculinized. Now, since the girls see the players on television, they already play soccer at school. It has been normalized ", he adds.
"We did not have references, they did. I used to hear about an American, like Mia Hamm, but I never saw her play. Now they can see their idols on TV ", Vázquez confirms. "For us and for those who will come," read a banner at the Johan Cruyff stadium, where the Barça women's team plays, when the most successful team at the recent UEFA gala put the finishing touch on the triplet season. Those to come are expected to be many more and with even fewer taboos.
A professional league that has not yet become professional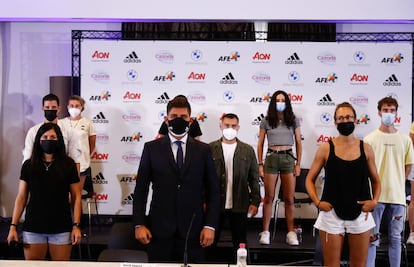 The Iberdrola League began yesterday with a Barcelona-Granadilla Tenerife (5-0, with two goals from Bruna, and another three from Putellas, Patri and Pina) after the Superior Sports Council declared the Women's League professional on June 15 football, a measure applauded by many. Although, both the Federation and the more modest clubs contemplate this professionalization with suspicion, which still does not occur in practice, because they do not want it to become a double-edged sword that ends up expelling the little ones. "We are in a moment of growth, which has to be sustained. It is necessary to advance in a progressive way and establish a solid base ", they indicate from the Federation. The enthusiasm of the public was palpable in 2019, before the covid arrived, when the international record of a women's match between clubs was broken at the Wanda in a match that faced the two greats, Atlético and Barça, in front of 60,739 spectators.
"There are many humble clubs that do not depend on a male and have no infrastructure. Having a sports city with everything is not the same as having to find a field to train or machine to find a gym. When the league is professional, there will be certain requirements that the clubs have to meet, "says soccer player Jade Boho from Logroño. The Iberdrola League is not yet professional. That was a breeding ground for the first crisis at Rayo, which saw its players refuse to train this preseason until their contracts were signed. When the problem could be solved, the club took refuge in that all the anticipated income had been seen "drastically reduced" due to the not yet professionalization of the League. When this professionalization takes place, it can help to finally reach an agreement on audiovisual rights. Last year, for example, the final of the women's Champions League that Barça beat Chelsea (4-0) had an average of 778,000 viewers and a cumulative audience of 1,670,000 on TV3. Said agreement for television rights does not imply, on the other hand, a change in the working conditions of the players, although it is expected that the matter will be on the table during the negotiations.
The main demands of the Federation are that the players have decent salary conditions and that they play in suitable fields, "because injuries are linked to the fields in which they play," says María Tato, director of the women's section of the Federation. To advance on the right foot, an economic contribution is needed, which is issued with continuity and with fixed schedules. "If football cannot be seen, it is not consumed. A club will not be sustainable if it does not generate good ticket sales and if the matches are not seen on television, a fundamental factor in attracting sponsors. Very good football is being seen, but unfortunately we are not seeing it as we should ", closes Tato.
You can follow EL PAÍS DEPORTES in Facebook and Twitter, or sign up here to receive our weekly newsletter.