The wind blows at 8.30 in the morning at the Sea Forest Waterway, home of the canoeing events. The wind is blowing, but the heat is unbearable and the thermometer already reads 29 degrees. Sounds It's my life full-speed. Sing Bon Jovi: "It's my life, it's now or never." Teresa Portela's life is her little Naira, to whom she did not know how to tell that this year she could not accompany her to the Games, that she had to stay in Aldán (Galicia) with her grandparents. Teresa Portela's life is 20 years in the elite of canoeing, 20 of the 39 she has; more than half life. Teresa Portela's life is 15 world medals and 17 European, but no Olympic so far, until she wins silver in the final of K1-200 (38,883), behind New Zealand Lisa Carrington (38,120), the dominator of 200 who usually win with a canoe of advantage, but not today; and ahead of Danish Emma Jorgensen (38,901).
This Tuesday, the only Spanish woman who has reached six Olympic appointments finally managed to cry with joy at the Games. With a silver, as big as his delivery, and as the scream that hit the finish line. "I left my throat there, I was enraged," she says. And two and a half hours after the final, when she returns to the hangar after going through the anti-doping control, now surrounded by only her own, she jokes: "If I go to look for them, I notice that I find my tonsils at the finish line ".
"Only she knows what this medal has cost, the vomiting from fatigue, the crying from the physical demand. What Teri has done is very great ", says Daniel Brage, her technician, discreet, silent, who always runs away from the spotlight. It is a silver that weighs a lot once you have it in your hands, the nails painted red. A silver that has won with the soul, after almost missing out in the semifinal. A silver that has made David Mascato, her physio and husband, cry like a child, who saw the final jumping from one side to the other, unable to stop still, wearing a cap, sunglasses and a Spanish flag. And he cries, cries without stopping: "I can now die in peace, he has achieved it, he has achieved it", he does not stop repeating.
He keeps Portela's shovel and takes out his amulet from his pocket. "Look, there are three pieces of a puzzle, a puzzle that we have Naira, Teri me, there are three pieces, the fourth is missing, the one we had left for today's medal," he explains. You are the owner of your destiny are the words that are printed on the puzzle. "And fate seemed not to, but it finally has its medal. I saw her after the semi-finals and she was pissed off because she knew it didn't go well. He told me that he had more, that he was fine, that he was going to get it, "says Mascató. He no longer has a voice.
And Teri also says it, as everyone on the team calls her, when she has finished attending all the media in the mixed zone. "You've seen? I knew it, I knew I was capable of getting it. " And he caresses her, pampers her, while the volunteers who guard the hangar applaud her. "I felt that it was for me, that it had to be mine. It's already mine, I'm very happy. It's a dream because these are my sixth Games and I never imagined in my life that I could get here. When I went to the first ones, in Sydney 2000, I felt very lucky and did not think that it could be repeated. In 2004 I thought the same: how lucky I am to be here. And so on up to six Games … And here in Tokyo I felt that I had to enjoy it; I wanted a medal, but I wanted to enjoy it as if there were not going to be any more races, and I enjoyed it ". And she also made her teammates enjoy and suffer a lot, their nerves too, Saúl Craviotto the first, who started canoeing with her.
The Galician canoeist entered the semifinals directly by winning her series on Monday. His coach, Daniel Brage, warned the day before that it was the most complicated semifinal that could touch him because he shoved with the first four of the last World Cup. There was no margin for error. And the semifinal was already a heart attack. He did not nail the start like the day before and when he entered the finish line the results of the fourth [el último puesto que daba acceso a la final] on the eighth they were late in leaving. On the dock, Brage and David Mascato were biting their nails waiting for the judges to analyze the images of the photo-finish. "Fourth, fourth for a thousandth!" Exclaim the president of the federation, Pedro Pablo Barrios, and the other team technicians who are on the track and cannot be seated in the stands. "Be careful, it's not official yet," Brage tells them. Mascato as he runs off to look for her in the hangar. A while later the result is made official, there are two fourths (Portela and the Swedish Linnea Stensils) and both reach the final that, exceptionally, will have nine canoeists.
And again, again after the final it takes time for the results to appear on the screen. Everyone is clear that Portela is silver, but suddenly the Polish Marta Walczykiewciz appears as second and nobody understands anything. It's just a couple of seconds, which takes to correct the graph. The Polish is fourth. So Teri tells how he lived it from the canoe: "I gave a cry that left my throat there. I thought I was second, but we were all there and very even. I was enraged, with all the accumulated tension of these days. I screamed to vent it and saw the screen and saw that they did not hit me on the podium, but I kept thinking they did. Maybe it was what my head wanted. I screamed, I took my breath away, I saw that I was not in the medal, but I felt good. I felt that I gave everything, that I was good at all times, hooked until the end. When I saw the second one, maaaadre what I shouted, I left my soul there because of how happy I was. The one who wins is used to it, of course, I had never won in the Games ".
Portela has led a life chasing the Olympic medal. In London 2012, the Games to which he best arrived, he was left off the podium because the last one came out, he did not hear the ready, set, go of the start and although he starred in a great comeback in the last meters, he did not give him to get on the podium. And in Mascato's head, during the semifinal, hands on his face watching the giant screen, all those images must have passed him: "Not again eh, not again." No, this time it was money.
It's been 20 years since Teri debuted on the national team. 20 years of daily efforts and sacrifices, from Monday to Sunday. 20 years of straining the body, of fighting against time, of trying to scratch hundredths of a clock in any small detail. At a distance, moreover, the K1-200, so explosive that it is more conducive to younger athletes. Normally, the usual process is to go to longer distances, of less power and less sprint and more resistant. "But I don't abide by normality, if not, I would be wearing shoes at home. I am governed by the feelings I have in training, and I feel good ". And, in fact, when asked what the postponement of the one-year Games had meant, which she should have arrived at with 38, she answered that the others would also arrive with one more year, not just her.
For a few months he has been posting on his WhatsApp status "I'm not there until further notice." It is a way of making official that it has entered competition mode. "As it arrives I need to be more focused on work, on recovery and I try to abstract myself," she confessed in Verducido (Pontevedra) where the set-up for the Games ended.
Once in Tokyo, when asked what he would give in exchange for a medal, he said that he already gave a lot, everything, and that he would not exchange his 20 years in the elite for an Olympic metal. "I feel that I gave everything I could: work, many hours of training, hours taken from my family on a Sunday at eight in the morning while I was on a canoe. An Olympic medal is milk … but nobody gives you one for being 20 years in the elite. That is worth a lot to me ". Better a silver with 39 years in a distance in which the rivals are almost 10 years younger than her.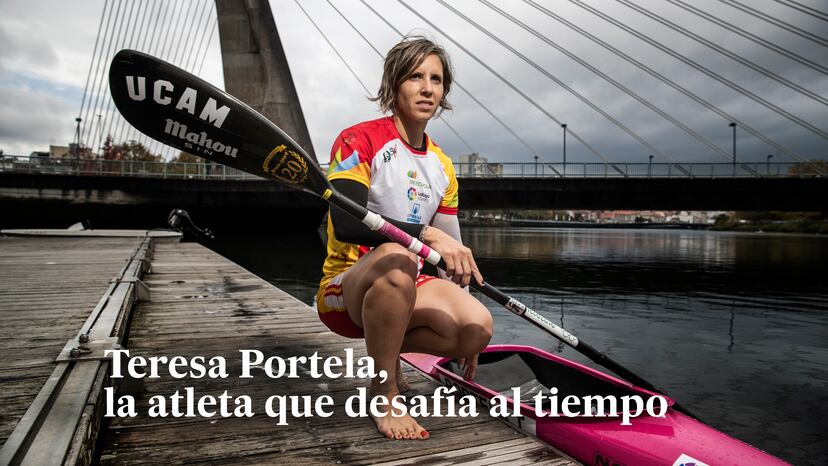 In video, 'The athlete who fights against time', a mini-documentary about Teresa Portela, the Spanish woman with the most Olympic appearances.PHOTO: C. ROSILLO / VIDEO: E. GIOVIO, A. NIETO, A. DE LA RÚA, L. ALMODOVAR
Subscribe here to our special newsletter about the Tokyo Games