Walter Bonatti's last five days as an elite mountaineer remain legendary: between February 18 and 22, 1965, the Italian alone created a new route on the north face of the Matterhorn that continues to terrorize new generations today. Upon his return to the valley, Bonatti drew a curtsy and gave up mountaineering. He was barely 35 years old. A few days ago, Simon Messner, the son of another great undeniable star of mountaineering, Reinhold Messner, climbed the Via Bonatti in just under 14 hours, strung up with his regular partner, Martin Sieberer. Every time someone climbs this 1,200-meter climb, rotting rock, black ice and intimidating exposure, it becomes news: it was when Catherine Destivelle spent four days doing it alone (1994), when Ueli Steck became the faster to climb it (25 hours in 2006) or when a young Swiss couple of Patrick Aufdenblatten and Michi Lerjen-Demjen surprised everyone by riding it in 7 hours and 14 minutes in 2011.
The case of Simon Messner, 31, only confirms the enormous talent of mountaineering that he treasures, the strength of his union with Sieberer. Simon has half a mountain film production company with his father. And apparently it is the only thing they share. Reinhold, the first man to conquer the planet's 14 eight-thousand, the first (along with Peter Habeler) to climb Everest without the help of artificial oxygen, has never been the most loved by the mountaineering community: his excessive ego, the contempt of many of his contemporaries, his harsh judgments about the activities of others and his sullen character were always a contrast with the affection that Walter Bonatti aroused, to whom Simon paid tribute as soon as he climbed his route in the Matterhorn.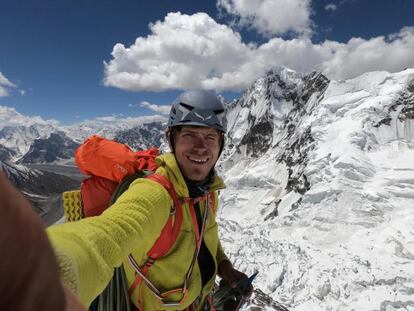 Interviewed last summer by the Corriere del VenetoSimon Messner recalled a childhood of fear of heights, vertigo and detachment towards the mountains "because the subject was already too present at home". If the logic seems to indicate that Simon is a mountaineer for the interest of his father, nothing more false. Simon became interested in mountaineering for another reason. "I wanted to understand why I had vertigo, why it scared me every time I was more than two meters above the ground. Thus, exceeding my limits, I became a mountaineer ". His father never took him to climb, or to the mountains. He was simply not there, explains Simon, who does not call his father "father" but Reinhold, also the father of three daughters and recently married for the third time. Simon was not invited to this wedding: "I do not accept that his wife is my sister's age. But he is Reinhold: if he has something in mind, he does it. I keep my distance, it's not like before. It has never been easy. It doesn't leave much room for others, but when I was young it was simpler. Today I no longer want to try to make it go well: I have my life and he has his ". Even when they both work together, Simon says: "It makes me suffer in the setbut he's the boss, always. Ours has never been a parent-child relationship; he is not a father like the others ".
Even being a sponsored mountaineer on his own merits, someone capable of climbing a virgin mountain in Pakistan (the Black Tooth, 6,718m) or of opening an extreme mixed route in the Alpine Pinnstal valley, Simon Messner does not lavish himself on social media. When he needed news from his father, he looked for it in the newspaper BildSo now you don't want to be the center of attention. Being the son of a legend was a traumatic experience for Simon, who claims that his father was "rigid and absent." And abounds: "His head is hard like marble and can be very fickle. Everyone sees it as a myth, but a child does not need a legend, he needs a father and he never was. I will try to do better when I have my own children.
Now, Simon shoots a film about his father based on a dramatic expedition by Reinhold to Manaslu in 1972. And he anticipates that selfishness in the mountain world is one of the plot lines …
You can follow EL PAÍS DEPORTES in Facebook and Twitter, or sign up here to receive our weekly newsletter.