Schools reopened in Delhi, Rajasthan, Madhya Pradesh, Telangana and Tamil Nadu with rules such as no lunch box sharing, 50 per cent attendance and parental approval to attend school. However, the attendance of students remained low. Schools opened for children from class 9th to 12th in the national capital Delhi from Wednesday.
After 17 months, the school returned to Delhi, the children reached even in the rain
Meanwhile, schools in Delhi, which were closed for a long time due to the global pandemic of COVID-19, finally opened for students of classes IX to XII on Wednesday. Amidst the heavy rain in the city today, students were seen going to school with umbrellas in their hands, wearing masks on their faces. Delhi Deputy Chief Minister and Education Minister Manish Sisodia tweeted, 'After 17 months, schools are open today, children will again sit in their classes and study, have fun with friends. And yes, despite the rain, the children reached the school, obviously the children were also eagerly waiting for their schools to open.
Schools from class 6th to 8th will also open in Delhi from September 7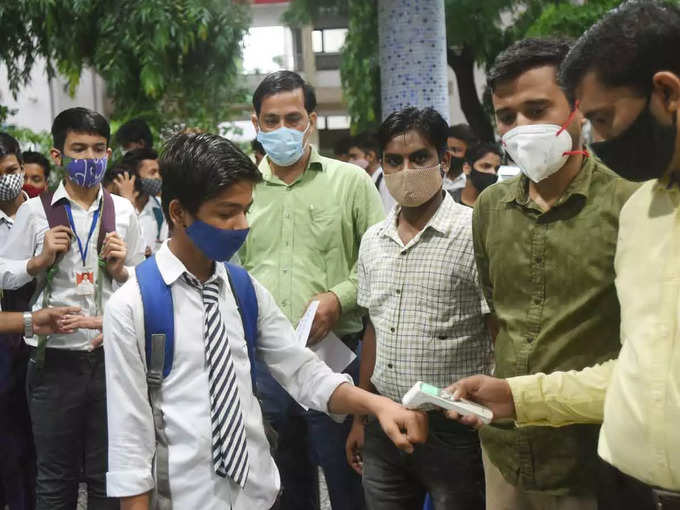 In view of the reduction in the cases of corona virus infection, the Delhi government had announced on Friday that schools, colleges, coaching institutes would be opened from September 1 for classes IX to XII. The Delhi government had made it clear that no student would be forced to come to school and parental permission would be mandatory for this.
Schools used children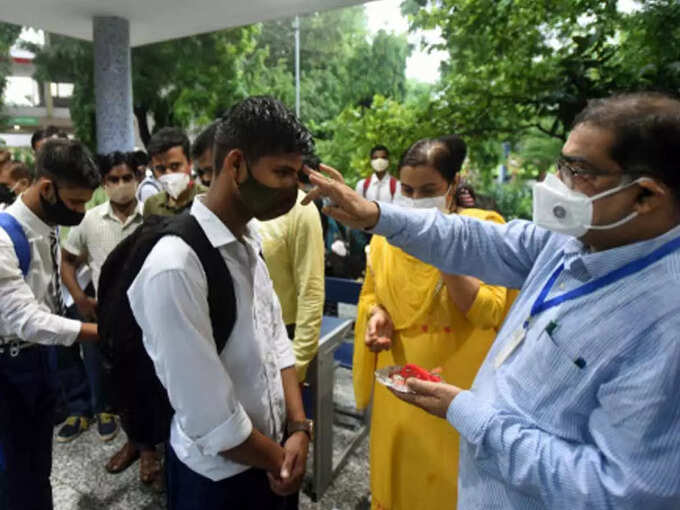 Usha Rajput, head of 'Government Girls Senior Secondary School' located in Vasundhara Enclave, told news agency Bhasha, 'We are ready to open the school completely. We have disinfected the premises and all our employees have been vaccinated. The students are very happy to be back to school. Now all their questions will be answered instantly. The children were also missing school a lot. The third wave of infection is a matter of concern, but we hope that with all precautions, we will be able to run the school smoothly.
Sanitizer in schools, body temperature of children was also measured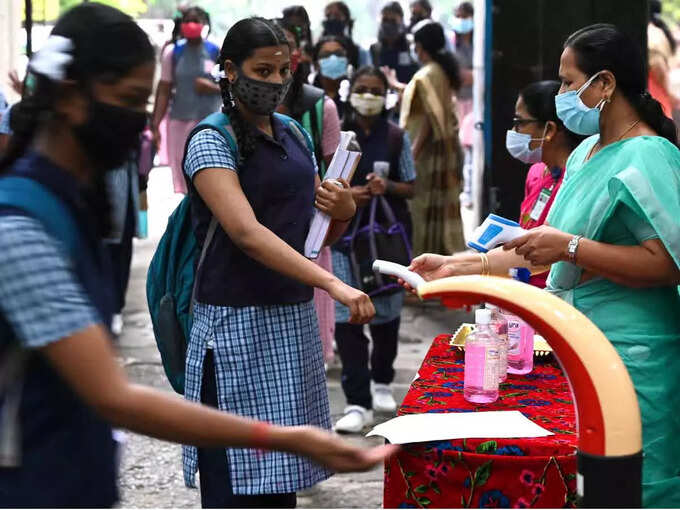 A system of sanitizer was seen for the children in the schools. The body temperature of all the children was also recorded. A student of a government school in East Delhi said, "I am very excited to meet my friends. This is a new way of normal life and we have to learn to live with it.' The student said that all precautionary measures are being taken in view of Covid-19. At the same time, Dwarka's 'Mount Carmel School' has no plans to open the campus for at least a month as all its staff are yet to be vaccinated. She has decided to continue with the online classes for now. (Note- the picture is of a school in Chennai)
Schools from 1st to 5th opened in UP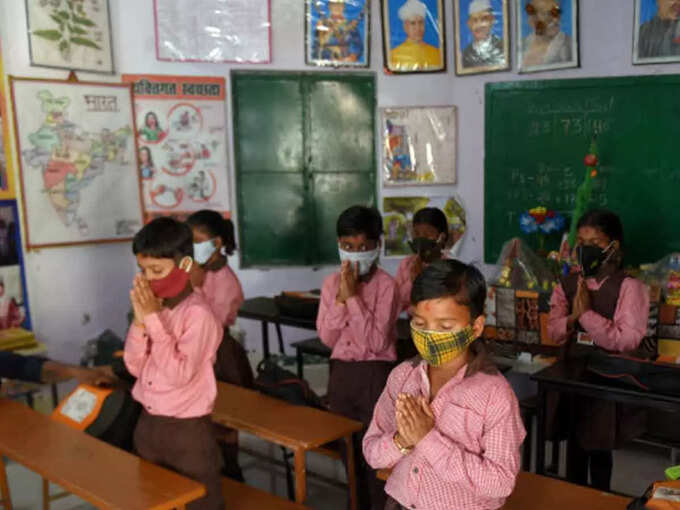 On the other hand, in Uttar Pradesh, schools from classes one to five were opened on Wednesday for the first time after the lockdown implemented due to the Covid-19 Pandemic. Although the schools did open, but the attendance of children in them was very less. To welcome the children, some schools decorated the entrance gate of the campus and distributed toffees etc. to the children, their hands were also sanitized before admitting the children. Harsh, a Class III student at a private school in Lucknow, said that he is very happy that the school is opening and after a long time, he will now be able to meet his friends. However, Harsh's mother Megha appeared worried about the possibility of Covid-19 infection and said that if the cases of infection increase, she will not allow her child to go to school.
strict adherence to corona protocol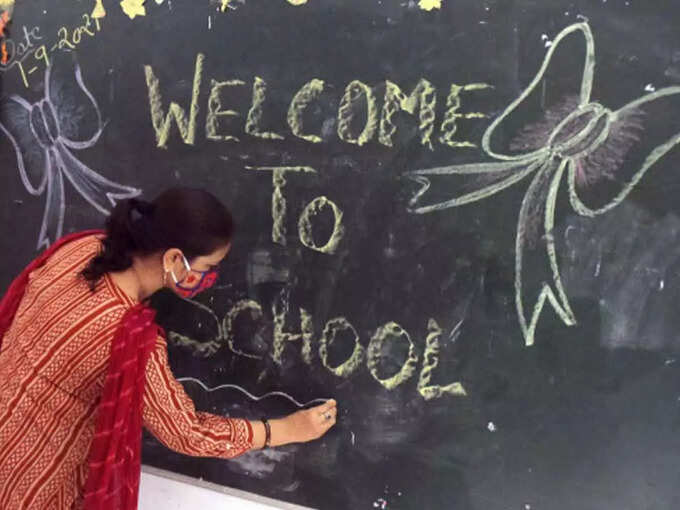 Schools from class 9 to 12 have been opened in the state from August 16, while schools for classes six to eight have been opened from August 24. Schools from classes 1 to 5 were closed last year in March 2020 due to the onset of the COVID-19 pandemic. Since then, today they have been opened for the first time strictly following the Covid-19 protocol. Congratulating the children on the opening of the school, Chief Minister Yogi Adityanath said in a tweet on Wednesday that the schools, which were closed for a long time due to the corona Pandemic, are being reopened from today from September 1, Best wishes to all the children.
Schools opened for 9th to 12th students in Tamil Nadu too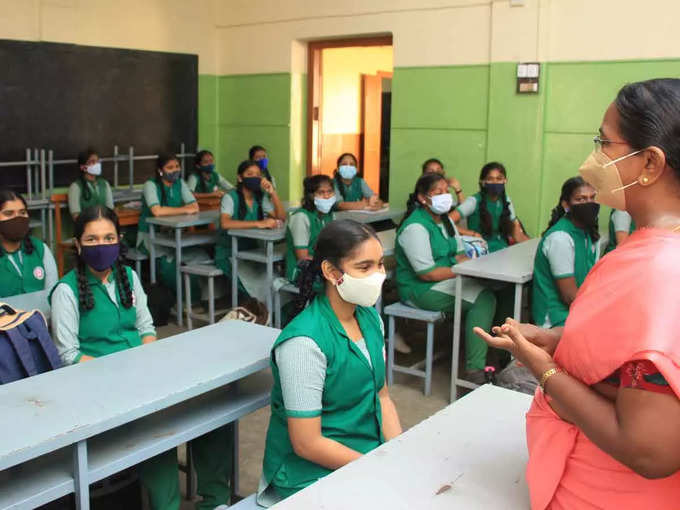 At the same time, following the strict rules of Covid-19 in Tamil Nadu, schools opened for students of classes IX to XII on Wednesday. At the same time, classes have also started in the college premises in the state. In view of the increasing cases of corona virus, the Tamil Nadu government on 20 March announced that schools would remain closed for students of classes IX, 10 and 11, while those for class 12 students would remain open with effect from March 22 until further orders. They have to have board exams.
Schools open in Rajasthan too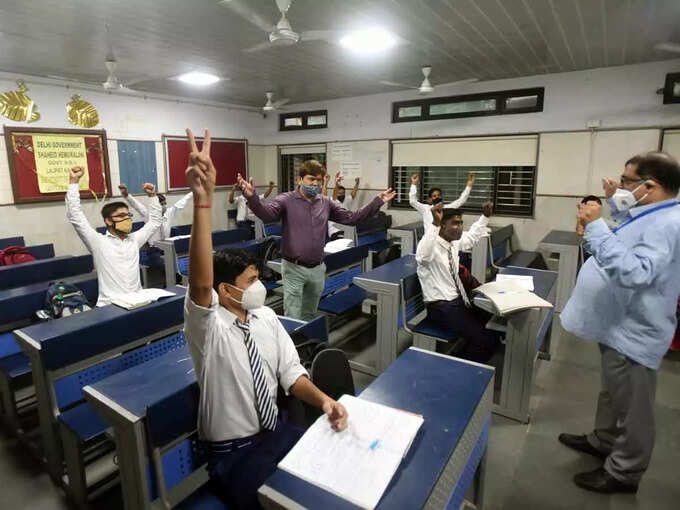 Schools for classes IX to XII resumed in Rajasthan on Wednesday. Government and private schools for these classes reopened on Wednesday after being closed for more than four months. The state education department has also cut syllabus by 30 percent in all schools. The attendance of students was not high on the first day as online classes are also being conducted simultaneously. Sumita Minhas, Principal, Poddar World School said, "On the first day, almost half of the number of students we had expected to come, but the students who came on the first day are happy and excited. We have asked them not to get too excited and follow all norms and protocols for their safety and security.
All schools open except residential government institutions in Telangana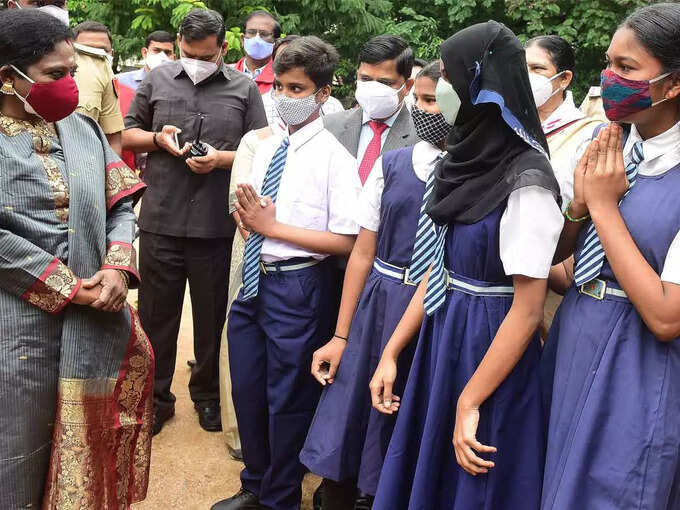 All schools, colleges, except residential government institutions, reopened in Telangana on Wednesday following the COVID-19 guidelines. On Tuesday, classes were resumed for classes 1 to 12 following the order of the High Court. While the court allowed schools to open, government residential schools were barred from conducting off-line classes for four weeks.
children were happy after coming to school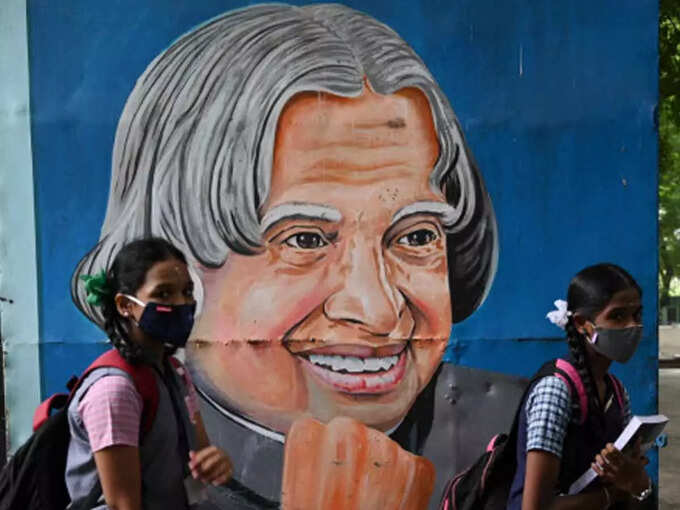 The children were happy after coming to school. The picture is of girl students of a school in Tamil Nadu. On the other hand, in Madhya Pradesh too, classes were allowed to be conducted with 50 percent attendance. On Wednesday, the attendance of students was low, although the children were happy to return to school after about 17 months. Bhopal District Education Officer Nitin Saxena told Bhasha that schools have been instructed to ensure strict compliance of COVID rules.
Schools were closed since March last year
Union Education Minister Dharmendra Pradhan on Wednesday reviewed the status of opening of schools across the country and the roadmap for vaccinating their personnel. Schools were closed in March last year before the national lockdown to prevent the spread of the coronavirus. The Center had in October last year allowed schools to open in their states as per the COVID-19 situation. Some states had begun to partially open schools that they were completely closed in April this year as the second horrific wave of Covid-19 hit the country. With the improvement in the situation of Covid-19, now many states have started opening schools.
.