Antonio Carrillo received on August 21 for his 40th birthday a very special gift: a small drone weighing just 249 grams equipped with a 12 megapixel camera. So this palm farmer, who manages several of his family's farms in Tazacorte and El Remo, a few kilometers from the area where the volcano has erupted, did not have much idea of ​​how to pilot these devices. And he assures that he still does not know too much. "I hardly know how to fly it," he admits while waiting for the arrival of the Kings of Spain in a square in the La Laguna neighborhood, in the Los Llanos de Aridane municipality.
However, just a month later, his DJI Mini2 has made him a little hero for many of his neighbors and a reference outside of it for those who seek images of the eruption of the Cabeza de Vaca volcano. First it occurred to Carrillo to fly the device over the affected areas. Then a friend suggested that he put it on Youtube. "And that became countless requests from neighbors asking me to fly over their house, to see how far it is from their farms … People from La Palma, but also from La Gomera, Germany and even France." In a few days his drone had become an indispensable tool for hundreds of people who, evicted from their homes, wanted to know how their properties were. From 95 followers, his account on the video platform rose to 1,500.
Until this Thursday. "I was flying the drone and all of a sudden they touched me behind my back." It was the Civil Guard, which ordered him to immediately lower the device. "I explained to them that I was doing this to help desperate people who are going through hell." But there was no case. Carrillo landed the device. The agents confiscated it and took the data. "They told me that if people want information, to go to the official channels." The armed body returned the device to him in a few hours, but they imposed a fine of 90 euros with the warning not to fly it again in the area. He is thinking about it. "I have fear in my body."
"An absurdity"
As the news of the confiscation of the drone spread, the networks were filled with dozens of messages of protest and solidarity with Carrillo. Several of them almost literally agreed on the same message: their drone "were our eyes." In a tweet addressed to the Civil Guard, Joantxo Llantada (@joantxo), assured: "Understand that the residents of Todoque need to know how the lava is progressing and the state of our properties. No one is doing it, just him. Return the drone to Antonio Carrillo. For solidarity and empathy ". In the same network, Teresa Serrano (@SanquinTeresa) expressed herself: "Give back the confiscated drone to Antonio Carrillo! You have taken it from him and it is the only one that offers us images of the advance of the lava towards our houses! Our concern is increasing ". "This is nonsense. Antonio's drone was the eyes of these neighbors, relief and hope in his life, and the police have taken it away from him, "said Zoza Novo (@acrapoesia).
The same tone has the dozens of messages that Carrillo's followers have published on his YouTube account. "ANTONIO, keep us informed and between all of us we will put a lot of pressure. Invaluable work, there are specialized pages that have used your images to see, predict and outline the lava flows of the affected people to see what happens to their homes. I understand your anger very well because I was the first to fly with a drone on this island when there was not so much legislation, "said one of the messages, signed by Armando Rodríguez Frías. In addition to its usefulness for the neighbors, Carrillo gave his images to various media for free, including EL PAÍS, as confirmed by the deputy director of video of this newspaper, Carlos de Vega.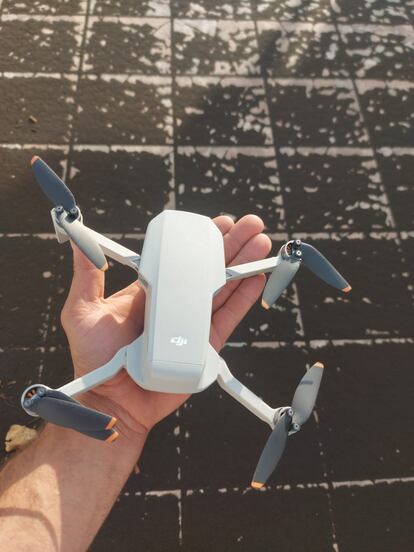 Carrillo hardly knows anything about this neighborhood rebellion in favor of his cause, because he has no social networks. "I don't want a leading role or anything, my whole intention was to help people who are having a hard time." The law, in any case, does not protect you. Enaire, the public business entity that manages air navigation in Spain, has declared the entire area affected by the volcano an exclusion zone, as explained to EL PAÍS by an agent of the National Police Air Safety and Protection Team. Under normal conditions, any user could fly a device with a camera that weighs less than 250 grams. But for this, it would have to be registered with the State Agency for Aviation Safety (AESA). In addition, it must be taken into account that La Palma is a Biosphere Reserve and to fly over areas protected by its flora or fauna, it would be necessary to request permission from the Island Council.
Joantxo Llantada, an expert in digital marketing, from Valencia with a palm tree, was on the island visiting his parents when the volcano erupted and they were evicted from their home in Todoque, one of the worst hit neighborhoods. Over the phone, he explains to EL PAÍS the importance of Carrillo's work: "This kid has hit a currada brutal. The media report out, but Carrillo informs those affected. Neighbors told him by email which areas we were interested in flying over him and he designed the routes so that we would have controlled our properties ". Llantada has promoted a collection to pay Carrillo for another drone and claims that, if it cannot be him, it is the authorities who carry out that work. "I work in the administration and I know what the rules are, but these are very real human dramas. And if in this 2.0 world there is this technology so accessible to reduce people's anxiety, it should be used ", he concludes.
You can follow EL PAÍS TECNOLOGÍA at Facebook and Twitter or sign up here to receive our weekly newsletter.