New Delhi
If your car is 15 years old or more, then be prepared to loose its pocket. After April 2022, renewing the registration of such vehicles will become 8 times more expensive. Owners of heavy commercial vehicles will also have to pay 8 times more fee for getting the fitness certificate issued for buses and trucks older than 15 years.
The Ministry of Road, Transport and Highways issued a notification in this regard on Monday. However, it will not have any effect on Delhi and its surrounding areas. There is already a ban on diesel vehicles older than 10 years and petrol vehicles older than 15 years on the order of the National Green Tribunal (NGT).

Fees made many times more expensive
According to the notification, the renewal of registration for a 15-year old car will be for Rs 5,000. At present Rs 600 is charged for this. Similarly, the renewal fee for registration of used motorcycles will be Rs 1,000 as against Rs 300 at present. A fitness certificate for a 15-year-old bus or truck will be made for Rs 12,500, for which it currently costs Rs 1,500.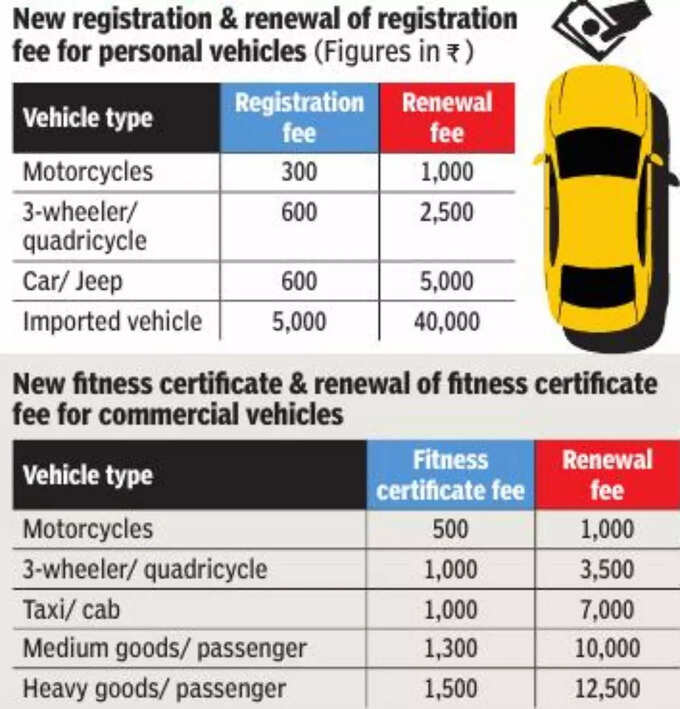 Fitness renewal for cabs has also been made seven times more expensive. At present, Rs 1,000 has to be paid for this.
Penalty will be imposed if it is not renewed
Delay in renewing private vehicles older than 15 years will attract a penalty of Rs 300 per month. For commercial vehicles, this penalty will be Rs 500 per month. For non-renewal of fitness certificates of commercial vehicles, a fine of Rs 50 per day will be levied.
There may be power shortage for the next 6 months
The reason behind such increase in the renewal fee of registration and fitness certificates is to deter people from keeping old vehicles.

.