Kabul
The Taliban, who is going to announce the government in Afghanistan, has once again given a statement on India's Kashmir. Taliban spokesman Suhail Shaheen said his group did not intend to wage an armed conflict against any country. Shaheen also said that being a Muslim, he has the right to raise his voice in favor of Muslims in India's Kashmir or in any other country.
Taliban said this about Muslims.
In a conversation with the BBC, Taliban's Doha office spokesman Suhail Shaheen said that we will raise our voice and say that Muslims are your people, citizens of your country. They are equal according to your law. Earlier, Zabiullah Mujahid, one of the top Taliban spokesman, had also supported his group regarding Kashmir. He had said that India should make its attitude positive in the matter of Kashmir.
India Taliban Relations: Taliban leader announced for military training in India, will continue economic and political ties with India
Pak is spreading propaganda about Kashmir
After the abrogation of Article 370 from Jammu and Kashmir in 2019, Pakistan is spreading propaganda about Kashmiri Muslims in the world with full vigor. However, the big thing is that India has already foiled every move of Pakistan. Pakistan has made false allegations about Kashmir many times even from the United Nations forum. In response to which India has also given a strong response.

'India has helped the enemy for 20 years…' Taliban told what will be the stand on Kashmir
'Taliban will win Kashmir and give it to Pakistan'
Neelam Irshad Sheikh, leader of Imran Khan's party PTI, had claimed that the Taliban is with Pakistan. He said that Taliban will come and conquer Kashmir and give it to Pakistan. Neelam made this controversial statement in a debate on Pakistan's Bol TV, which has long been believed to have deep links with Pakistani intelligence agency ISI.



Taliban leader 'Sheru', who studied in IMA, offered to India, maintain embassy in Afghanistan
What kind of relationship does Taliban want with India?
Earlier, senior Taliban leader Sher Mohammad Abbas Stanakzai, who was trained at the Indian Military Academy (IMA), made a big statement on relations with India. He said the Taliban wanted to continue Afghanistan's political, economic and cultural ties with India. He said that India is very important for this subcontinent. We wish to continue our cultural, economic and trade ties with India as before.



How will the Taliban government in Afghanistan be? After Mulla Baradar, who is the leader number-2 of terrorists?
Taliban also spoke on TAPI pipeline and Chabahar
Speaking about Afghanistan's relations with Turkmenistan, Stanakzai referred to the Turkmenistan-Afghanistan-Pakistan-India (TAPI) gas pipeline project. He said the Taliban would work to address the problems blocking the project once the government was formed. Stankzai, speaking about the relationship with Iran, also mentioned the Chabahar port developed by India and highlighted its importance for trade.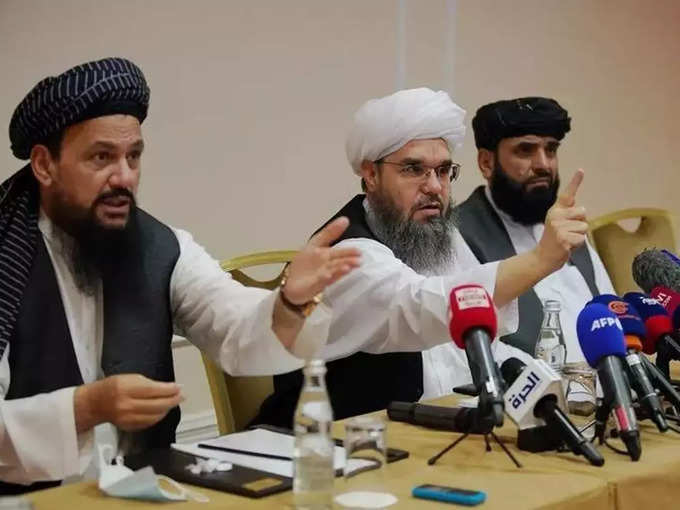 Taliban spokesman Suhail Shaheen (last from left)
.