The days when you had to put the radio or television on at a certain time to find out what time it was going to be the next weekend are long gone. Weather information without schedules first reached the internet and then, with the advent of smartphones just over a decade ago (the first iPhone was launched in 2007), to many mobile applications. Only in the Play Store, Google's application store, in 2017 there were more than 11,500 applications of the time, according to a study carried out by José Daniel Gómez de Segura, Santiago Gaztelumendi and Maialen Martija-Díez, from Tecnalia, in 2018. However , even sometimes we go out into the street convinced that it will not rain and we are surprised by a downpour. How reliable are these predictions? And, above all, do we know how to interpret them?
The doctor in Physics from the University of Murcia and Meteored meteorologist Raquel Lorente points out that the first question that must be asked before addressing other questions is what exactly we mean by reliability in a weather forecast. "Is it the prediction that best matches the observations or is it the one that best meets the expectations of the users?", He reflects. Most of these programs are based on "rigorously tested" atmospheric models that then, in the most complete applications, go through an extra verification filter. This whole process usually gives a fairly accurate prediction of what happens next, but there may still be complaints from users. "This does not mean that the scientific study is wrong or that the user is wrong," Lorente points out.
Even so, and despite those days when in the end the sky does something different from what we had understood it was going to do, the general assessment of the applications of time is quite good. According to the same study mentioned above, the average rating for weather applications on the Play Store is four points out of five (although the average for all categories is 4.1). This is in line with the quality of the predictions, which, according to Beatriz Hervella, meteorologist spokesperson for the State Meteorological Agency (AEMET), has improved "substantially" in recent years. "Some statistics of whether or not it will rain the next day at a given point are above 92% correct," he exemplifies.
Sometimes, however, users perceive that their favorite app's prediction has failed. Is it a real failure or just a lack of competence on the part of who uses the application? "I think there is a lot of tendency to underestimate the user so as not to make constructive criticism," Hervella explains. Raquel Lorente agrees. "Without a doubt, when the user believes that the prediction has failed, something is being done wrong. The failure may come from the atmospheric model or it may come from the way the information has been transmitted ", he assures.
As an example of a mismatch between what is to be transmitted and what is understood on the other side, she says that on one occasion Meteored – before she joined the company – introduced a symbol of dry storms, that is, events with lightning , but without precipitation. "It turned out that many users complained because we were having storms and it was not raining. In this case, neither the user was wrong nor was the prediction wrong, it was an inappropriate way of expressing the information, "he says.
That most of the applications of the time are quite reliable does not mean that it does not matter which one to install on the mobile phone. "Decide on what app downloading time is not a different process than deciding on which application to download for any other type of service that we want to have on our mobile phone ", explains Santiago Gaztelumendi, director of the Tecnalia Meteorology Area and coordinator of Euskalmet. In this specific case, he assures, it is important to take into account "the type of information that can be consulted, the source of predictions and observations it uses, the rate at which the data is updated and all aspects related to usability and ease. consultation ".
For Beatriz Hervella, the basic thing is to check where the data comes from, "to know what we are trusting", and, from there, to choose the application that best suits our preferences and needs. In addition, he adds that the ideal is to opt for applications that are not limited to collecting the direct output of a numerical model, but have also gone through a human who has added value to the prediction. "That he has corrected, adapted, and adjusted that forecast to the location. The machine has its limitations ", he explains.
Another important aspect is resolution, both temporal and spatial. "Better to have the forecast every hour than every six hours," explains Raquel Lorente. As for the spatial resolution, which has to do "with the size of the mesh to which the equations are solved", the smaller the better. In other words, a 10-kilometer model may be better than a 20-kilometer one. Regarding this detail, Beatriz Hervella explains that it is important to know it because some applications sell you that they are giving you the prediction for the exact place where you are when in reality that prediction is the same as for another point that is 20 kilometers away. The problem is that many times all these specifications are very hidden in the application, you have to look for them on its website or they cannot be found directly.
Also keep in mind that there are places where one application can be more reliable than others. "If our interest is the detailed local weather forecast, the first thing we should do is identify which is the official source that provides weather forecasts in that place, since with high probability they will be the most reliable and most likely have some available. kind of free application to consult it ", explains Gaztelumendi.
From there, it depends on personal preferences. There are those who want a very detailed application, with radar, satellite information, etc. and who prefers something simpler and more direct.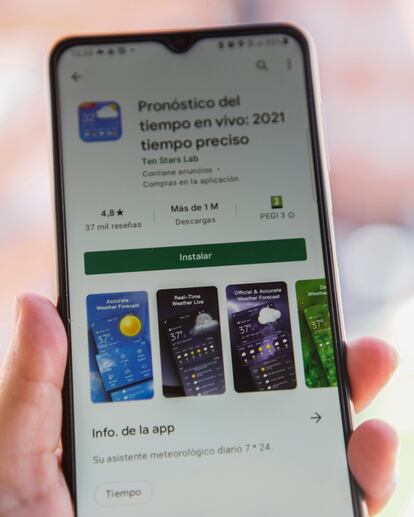 When different programs give different predictions
Anyone who has and consults several weather apps knows that in many cases the predictions they offer are slightly different. Some tend to be more optimistic about temperature, some give rain when others do not, the time the thermometer starts to drop in one is the time it is still rising in others, etc. There are users, in fact, who tend to consult various applications and from there extract a kind of average to get an idea of ​​the time they are going to do, a practice that Santiago Gaztelumendi considers useful as long as they make sure that the data sources they handle They are not the same. "If we are always consulting the same models in different aesthetic versions it will not give us much," he says.
These variations between applications, however, do not depend solely on the source of the data. The atmospheric model used will give the basic difference between predictions, but the post-processing also influences —the algorithms and corrections that are made on that model— and the criteria used for the symbols, explains Raquel Lorente. In other words, a sun and white clouds icon can mean different things in different applications. "To put a sun and clouds or darker clouds, we [Meteored] we take into account the percentage of cloudiness, if they are higher or lower clouds, etc. ", explains the meteorologist, factors that the user rarely takes into account when he sees a symbol in his application.
In that consultation of several applications to draw a more complete conclusion, our own personal bias also influences. Beatriz Hervella indicates that many times more than an average, we seek to stay with the forecast that interests us the most. "It happens to me as a predictor, especially for things like weddings. If the forecast is for rain, there are people who almost begin to negotiate with you, as if that forecast were to change, "he says. In fact, user complaints tend to come more when plans have changed for a prediction that was later not fulfilled. "You can be correct five of the seven days of the week, but being wrong on the weekend can be more penalized", adds Raquel Lorente.
What we can ask
Taking into account everything that has been exposed so far, it is easy to get it right when downloading a weather application that meets our needs. However, do not forget that applications and predictions also have their limits. Santiago Gaztelumendi summarizes in three points the aspects that we should not lose sight of when looking for a prediction in an application:
– The reliability of a forecast decreases with the forecast horizon. "In general, the quality is usually very acceptable until the third day and can set acceptable trends for seven days," he explains.
– This reliability is conditioned by the degree of detail that we demand of them, as well as by the variability of the atmospheric conditions. That is, the prediction will be less reliable the more detail we ask for and the more changeable the weather situation is.
-It also depends on the weather variant that we are consulting. "The reliability of products based on temperatures will be greater than those of rainfall," says the Euskalmet coordinator.
In addition, he points out that it must be taken into account that it is not always possible to give simple answers to complex situations. If we are not used to handling concepts of probability, for example, we can end up committing "certain errors of interpretation that, added to the errors inherent in the forecast, lead us to make bad decisions."
You can follow EL PAÍS TECNOLOGÍA at Facebook Y Twitter or sign up here to receive our weekly newsletter.