The city of Madrid changed its rules in September to facilitate the arrival of autonomous vehicles on its streets, which has attracted several innovative companies such as the giant delivery company Glovo, but the City Council now has the delicate task of combining that interest with the citizen security. As EL PAÍS has learned, the Barcelona-based Glovo and the start up Madrid's autonomous vehicles Goggo Network have requested a municipal permit to test home delivery with a couple of robots in the Goya neighborhood, in the Salamanca district, starting in January. They would be the first mechanized substitutes in Spain for the riders. The second of these companies, controlled by the Argentine-born investor Martín Varsavsky, has also requested authorization to circulate a food truck without pilot through the financial zone of the Four Towers. But sources from the City Council respond to this newspaper that it will not be possible to launch these initiatives so soon because "it is necessary to provide security guarantees to citizens."
A municipal spokesman for the Innovation area says that first these projects must be tested in a safe area of ​​the Villaverde district, in the south of the capital, an area that the City Council wants to promote as an experimentation field and which it has called Sandbox. "At the innovation level, the City Council is ambitious, but we must see how it works in Villaverde and take note of that first contact," says this spokesman. "In this regard we are prudent and we believe that these projects would start in the first half of 2022 at the earliest."
A third project awaiting municipal approval is the trial in Villaverde of an autonomous car from the Madrid engineering company FEM Experts and the Antonio de Nebrija University. Those responsible hope to test their vehicle, which is a modification of a Nissan Leaf, in January or February on a road circuit closed for the occasion by the Local Police. It would be an area of ​​the Villaverde Industrial Park: a section of Acebeda Street between two roundabouts, according to the request seen by this newspaper. The requests have been made known by this newspaper on the occasion of an exhibition of these products in La Nave de Villaverde, a municipal facility, before the presentation of the Sandbox in the afternoon of this monday by the Councilor for Innovation, Ángel Niño.
These experiments seek that Madrid follow the example of cities in the US and Asia where there is greater flexibility to experiment with autonomous vehicles, a technological advance that according to the automotive industry will revolutionize the way we move throughout the next two decades. The idea of ​​the Madrid authorities is to facilitate the tests to attract innovative companies that want to settle in Madrid.
The Madrid Futuro association, founded a year ago with a focus on innovation, is collaborating with the City Council in promoting the Sandbox Villaverde as a testing ground. "There is a lot of interest because in other cities it is not easy to test vehicles without a pilot", says the director of Madrid Futuro, Pablo Vázquez. Madrid Futuro has a list of 50 prototypes, which also includes urban technology projects such as street lamps or smart tiles. "We would like at least 30 of them to be tested in 2022," adds Vázquez.
What affects the most is what happens closer. To not miss anything, subscribe.
Subscribe
But a challenge for Madrid is the absence of a strong automotive and robotics industry. Some autonomous vehicle prototypes are multi-million dollar projects in which firms such as Tesla, Uber, Intel or Google are involved. Singapore, the Netherlands, Norway, the US or Finland are the leading countries in this field in a 2020 report by the KPMG consultancy that places Spain in 22nd place.
By lowering regulatory hurdles, cities around the world have sought to join the competition. For example, Intel published four months ago a video of an autonomous vehicle that circulated through Manhattan, in New York, crossing with other vehicles and pedestrians. In the video a man sitting in the driver's seat keeps his hands in his lap. Four years ago, Mayor Bill de Blasio and Governor Andrew Cuomo clashed publicly because the former was reluctant to give General Motors permission to test vehicles of this type around the city. A brake on these projects came months after that dispute, when a woman was hit by a car without a driver in Phoenix, Arizona.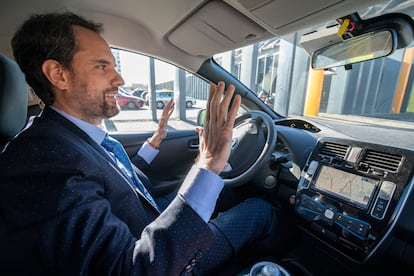 Madrid introduced in September in the reform of its Sustainable Mobility Ordinance the possibility for companies to request a permit from the City Council for the circulation of vehicles without a driver on any suitable urban public road, as well as on sidewalks and pedestrian streets.
For companies in this sector, driving on the streets is preferable to farms or private spaces because they want to test their complex computer systems in a real environment. Sensors and cameras receive tons of information from their surroundings from a flying leaf to the flare from building windows. FEM Expert and Antonio de Nebrija had tested their Neva autonomous car on land owned by that university, but when they consulted the DGT and insurance companies about the possibility of doing it on public roads they took them for crazy, according to Francisco Badea, one of the engineers who leads the project. "What is going to happen in Villaverde is a huge milestone," says Badea, grateful about Madrid Futuro and the greater municipal permissiveness. In the Villaverde test, no pedestrian or car outside the project would be allowed to enter.
In the footsteps of Amazon
Glovo says its plans do not include generally replacing robots with riders. "There is no business plan designed. This is an experiment that will allow us to verify the feasibility of this type of distribution ", explains Yohann Bensadoun, director of innovative product of Glovo. The American Amazon is one of the companies that already makes test deliveries with robots. The company introduced its Scout robot in the Seattle region (northeastern US) in 2019, and has extended this model to other cities in the US and Finland.
Glovo's robot is 79 cm tall, weighs 40 kilos and travels at 5 kilometers per hour. It would serve an area of ​​one km2 around the company's warehouse on Calle del Duque de Sesto, number 7, next to Retiro. It would move autonomously along a pedestrian route from that company warehouse in the neighborhood to the clients' homes, who would make their request like any other for the app. The food truck It would also move through pedestrian areas of the Cuatro Torres, in the north of the city. It would serve hot or cold prepared food between 8.30am and 5pm, depending on the Goggo Network's intentions. Its premiere will be this Wednesday in Las Rozas. During the Christmas period, it will circulate on Calle Real in that municipality, 20 km northwest of Madrid city.
A Goggo Network spokesperson, David Villagrá, says that more permissive regulations are essential to encourage innovation: "In China and the United States there is more investment because they are more flexible. Europe however is a more complex continent. We advocate to bring autonomous mobility as soon as possible to compete with the leaders of high technology ".
Subscribe here to our daily newsletter about Madrid.