Highlights
Three fractures came below the knee in an accident on April 1
First went to Metro Hospital, then Gangaram and then reached Loknayak
Then the cases started increasing in April, due to which the surgery was postponed.
Was positive one night before surgery, now surgery done two days ago
New Delhi
What would it have been like if a man kept walking for six months with a fractured leg. Neither he could get the right treatment, no surgery or any other solution was seen. Something similar happened with 58-year-old Sanjeev Arora, a resident of Patel Nagar. During this, it became a compulsion to sit at home due to the collapse of business. Such a situation can break any person from inside. However, now he has undergone surgery two days back and is currently admitted in the hospital.
Sanjeev Arora says that on April 1 this year, he had left for his shop in Noida. Were on the bike and some distance from the shop the car hit from behind. He fell and after the crowd gathered, the car driver took him to Metro Hospital in Noida. There the doctors asked to be admitted.
There is no new variant of Corona, yet the search continues
Since that hospital was away from home, he came to Ganga Ram Hospital. CT scan was done here, then three fractures came out just below the knee. These fractures were not from outside, but from inside. It took a long time to do the CT scan, by then the leg was filled with blood and the leg was badly swollen. In such a situation, the doctors at Gangaram Hospital said that the surgery cannot be done right now, unless the blood from the leg is drained out through the pipe. In such a situation, the doctors sent him back home.
According to Sanjeev Arora, after a few days he came to Loknayak Hospital. Admitted here and the date of surgery was also fixed, but a night before the surgery, the Covid test was done, then the report came positive. In such a situation, his surgery was stopped and admitted to the Covid ward.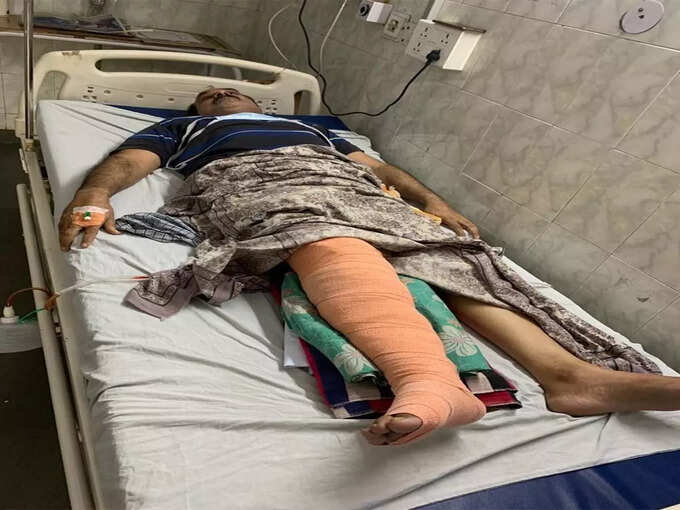 During that time the second wave of corona virus had arrived and the cases in the hospital started increasing very rapidly. Since the cases were increasing rapidly and surgery could not be done, he was discharged from the hospital and sent home. Due to Corona, the surgery kept happening.
The effect started appearing on the other leg as well.
A few days after coming home in April, it started affecting the other leg as well. That leg was also starting to swell and was not able to put on any weight at all. In such a situation, that leg was corrected with the help of the therapist, but the leg which was fractured stopped turning due to keeping it straight. He was unable to bend the leg at all.

Coronavirus India: After 188 days, the least active patients in the country, 31,382 cases came in the last 24 hours
Went home in April and got a call again in August for surgery from Loknayak Hospital. After thorough examination, surgery was done on 22 September. For about six and a half months I kept walking with the fractured leg and now even after the surgery I have been told not to put too much stress on the leg for six months.
What do doctors say?
Dr. Sumit Arora, Assistant Professor, Ortho Department at Loknayak Hospital, says that there are many such cases, which had to wait a long time for treatment due to corona virus and lockdown. Now those patients are being treated and such old cases are definitely there in every OT because they could not get treatment then. Now things are getting normal, so they are being given treatment mainly.
In Sanjeev Arora's case also, surgery would have been done in early April, but before the surgery, he became corona positive, due to which the surgery had to be stopped. Since they had fractures from inside, this surgery could have been stopped, but if the fracture was from outside, that is, if the bone came out, then surgery is done in emergency. At present, his bone has been straightened by cutting a little and soon he will recover.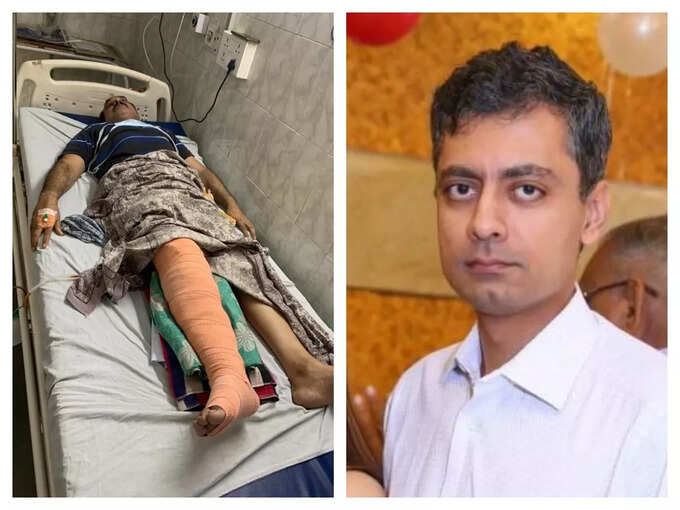 .