Own report: It's springtime on British soil. But not Basanti, on that ground now the pujo of Ashwin's eternal premature understanding is a good arrangement. There is also an intense autumn festival.
When the beam of light rang in Ashwin's autumn, the expatriate Bengalis also crossed the Suez Mediterranean and worshiped. Pujo has given a geography to the divided Bengalis. So there is no difference between the Bengalis on the banks of the Ganges and the Bengalis on the banks of the Thames or the Bengalis on the other side of the Atlantic. All Bengalis feel an indescribable obsession with Pujo's mantras, temples, melodies, rhythms, scents, colors.
The Bengalis of Scotland are no different. When Ashwin's floating cloud touches the sky of Parbas with the color of arrival from far away Bengal – no one notices. Don't let the hyacinths and cashews bloom in the skies of Greater Britain, the nature of the spring-afternoon here says, 'Mother is coming'. But now the mother is no longer 'coming', now the mother has arrived. It is in this context that the Bellfield Community Center has been set up under the auspices of Scotland's 'Sabash' ('Scottish Association of Bengali Arts and Heritage'). Pujo there is now shining brightly in the light.
Read more: #Festival: Not a priest, mother worships here in the hands of corpses!
Though young in more than sixty pujos in the UK, this fort festival of Edinburgh can now be heard in Bengali as well. The puja was started in 2016 by some expatriate Bengalis from Scotland. This year, in this pujo in Edinburgh, the sixth, seventh, eighth, ninth, tenth– the melody of arrival will be heard every day of the pujo, the drunkards will be the porch of the mandapa in the Chandipatha of Birendrakrishna Bhadra.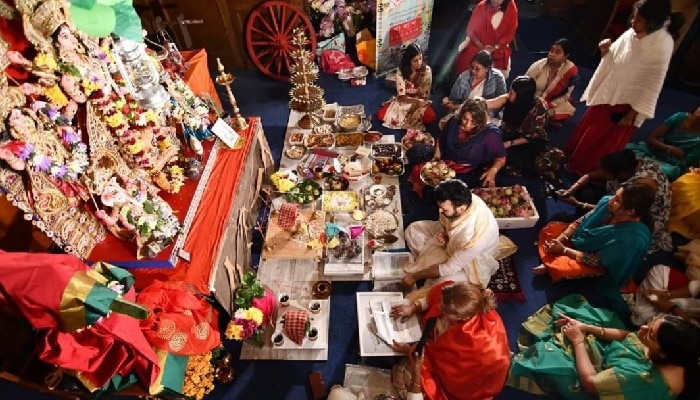 Sabekiana and modernity go hand in hand along with the Edinburgh Fort Festival, which is eight years old. The issue of pairing of Bengalis and Bengalis has always been the main goal of this pujo. Mother's Bodhan, Anjali, Sandhipujo, Kumari Pujo are all performed there with intense sincerity and devotion. There are conch sounds, uludhvani, dhak-kansar musical instruments, dhunuchinacha. And throughout all these pujo-episodes, from the sixth to the tenth, there is a rich cultural evening with drama-song-recitation-chat-debate.
At the end of the day and on the day of Lagna, the mother feels sad and leads the way to Kailash. Waiting for another year with that sadness.
Read more: #Festival: This octagonal idol was established by Emperor Akbar
.