Live and unedited. Many users, increasingly tired of traditional social networks and after the experience of confinement due to the coronavirus pandemic, seek closeness, freshness and real relationships; put aside the perfect appearances and return to spontaneity. Defeated by the rules of a platform like Instagram – which is home to 1.08 billion active users and is backed by Facebook – younger generations have begun to pay attention to new trends emerging in the app market. Photography and video platforms that go in the opposite direction to the traditional ones. And they flee from the utopia of perfection, sculptural bodies, paradisiacal landscapes or idyllic events to concentrate on the normal, that which does not enjoy filters and retouching.
"Instagram is the Hello of social media, but most people are imperfect, not rich, nor can they afford luxuries. People want to show themselves as they are without complexes and that has been achieved on TikTok, for example. Normal people triumph, who are natural with their imperfections and the community appreciates that ", explains Fátima Martínez, consultant and professor of digital marketing and social media. "I think spontaneity already exists in social networks, but in some more than in others. What happens is that in other social networks that have arisen as a result of the success of Instagram, this phenomenon is less common, because they start from the basis of exhibitionism, and there it does tend to be more elaborate content creation ", explains the analyst and consultant of digital platforms, David Álvarez.
Both Álvarez and Martínez agree that photography and video networks are preferred by the youngest users and that in them the reign of Instagram is clear. But also in that this hegemony is not without threats, with names that are beginning to sound like Dispo, Poparrazzi and BeReal. Three platforms that are sold as the second real challenge – after Snapchat – for the powerful Instagram ecosystem, which remains invincible. For now.
Dispo, or the value of disposable
One of the first to heed the call of a generation stressed by the pressures of Instagram perfection, was Dispo. The application allows you to take photos of style retro that users cannot view until 9 a.m. the next day. It was released in Japan in February 2020, shortly before the pandemic with a valuation of $ 200 million. Dispo came from the hand of its popular founder, David Dobrik, known for his profiles on Vine, YouTube and TikTok. And although a few months later the application suffered the abrupt departure of Dobrik due to a little clarified scandal, the numbers did not waver. In April, the application reached the ranking of the ten most downloaded applications in Germany, Japan and Brazil. In June they arrived in Mexico and were also among the most downloaded.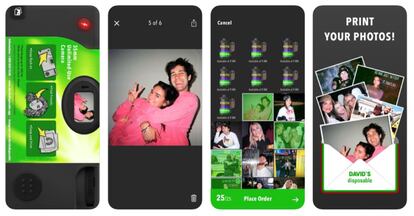 The company sees the future with optimism. Beyond the numbers, its leader Daniel Liss – a Harvard and Stanford alumnus who worked in politics before turning to technology – has explained to Fast company that Dispo's success lies in being "the antithesis of this curated and perfect aesthetic that has dominated the last decade thanks to forces like Instagram and Facebook." "We think that what we are capturing now is this new wave of social media (…) Much of what we are doing seems reminiscent of the early days of media, but there are other parts that we hope to get right from the start, which is a much greater emphasis on trust and security; a much greater emphasis on thinking critically about the impact the product is having on a person's mental health, "explains Liss.
Whatever your bet, Dispo, like Instagram, is still a social network for photos and videos, with its strengths and weaknesses. The CEO of the company has ensured that its application "separates [al usuario] from the phone and returns [al usuario] to the way we used to live. " Something with which the sociologist and digital analyst Marta Espuny Contreras disagrees. "Dispo aims to emulate the cameras of the past by preventing photos from being seen for up to 24 hours after they are taken. This is the momentary forced separation that its CEO talks about, which will function as an advertising message, merely reputational. However, it has not been proven that a forced non-exposure is related to a less telephone-dependent relationship. In fact, sometimes the opposite effect occurs ", he points out.
Poparazzi, the bet of the TikTok user
Neither TikTok is Poparazzi, nor does Poparazzi want to be the Chinese app. They have simply worked as allies, perhaps unknowingly, to gain a foothold in the digital platform space. This Instagram alternative app, founded by Alex and Austen Ma, is very young. It debuted last May, but has been ranked # 1 on Apple's photo and video app store in the United States. "The app's rise to the top of the charts didn't just happen organically. Poparazzi was promoted in TikTok videos to create a waiting list of users before the launch ", explain sources consulted by Variety. Thus, with the support of TikTok —another alternative social network that has been revealed as a successful model to cope with traditional platforms— Poparazzi reached 1.1 million downloads in the United States and 2 million worldwide in its first week, according to data from the developer page Apptopia.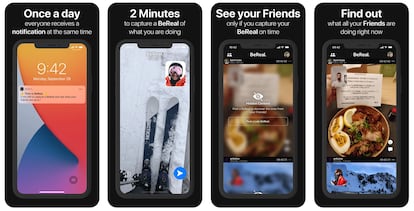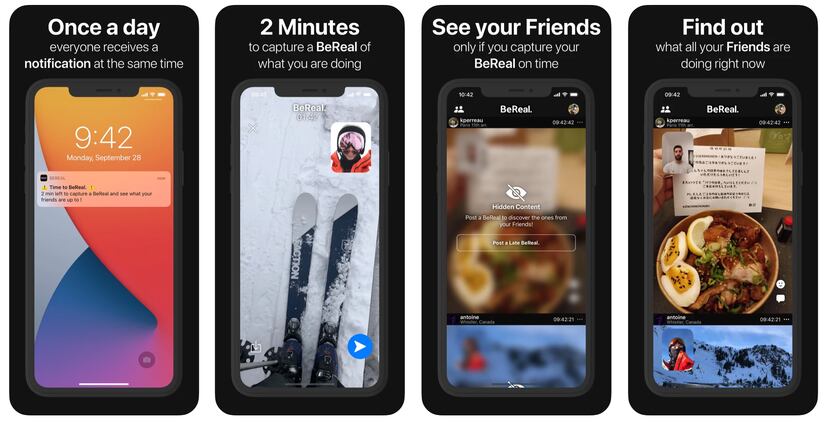 The Ma platform works with the winning card of the plot. The application plays with being an authentic paparazzi from friends or family. Users take photos of other people and they can only complete their profile with photos that others have taken or uploaded of them. Furthermore, it is the other users who can select which photos appear in the profiles of others. It is, in that sense, the antithesis of Instagram. "At Poparazzi, you are your friends' paparazzi and they are yours. The purpose is to create a depressurized social media environment and encourage less polished content than can normally be found on something like Instagram, "the company said on the day of its launch. "But it is also true that Poparazzi can compromise your privacy and having your friends upload your photos is a bit risky. You may or may not give permission, but just like something you allowed yesterday, today will take its toll on you, "warns Martínez. Privacy and the definition of the term "friends" are perhaps Poparazzi's great unfinished business.
BeReal, out of nowhere like its founder
Unlike Dispo, which was captained by an influential content creator, BeReal was not even known at home. Its founder Alexis Barreyat, is French and began working as a video producer at GoPro and an independent iOS developer. In January 2020, he bet on BeReal and conquered France.
Every day, at a random time, all users are notified simultaneously to capture and share a photo in the next 2 minutes. BeReal takes a photo with the camera to selfies and the camera on the back of the phone simultaneously, to give a more realistic impression of the user's environment. There is no time for the perfect scenery or makeup. Photography is there, now and so. No more. And although it might seem like an insignificant application, the French market has welcomed it with open arms. According Sensor Tower, BeReal's daily active users have increased from 50,000 in March to more than 300,000 in May. Until June, most of the app's users were in Paris and Lyon, but in Belgium, the app is also starting to gain popularity. "This is a new and unique way of discovering who your friends really are in your daily life," they explain on the app's website.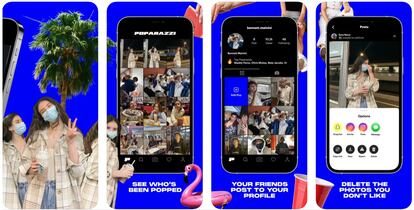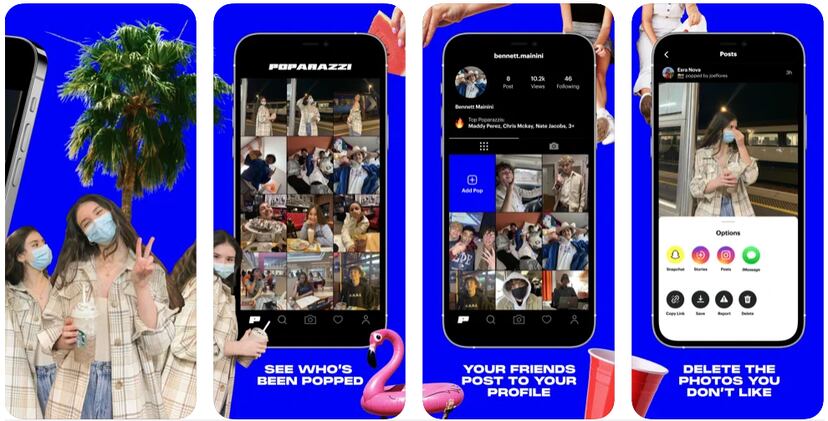 Who competes against Instagram? Snapchat? Or are we witnessing the emergence of alternatives such as Dispo, Poparazzi and BeReal that will do with photographs what TikTok has already done with short videos and Clubhouse with audios? "I am very skeptical about this hypothetical situation, among other things because it is very difficult for me to imagine a network user being a user of a single social network," explains Álvarez and reveals that the average person on these platforms uses three or four on average.
But Instagram is aware of its competition. So much so that on June 30, Instagram boss Adam Mosseri posted a video in which he revealed new functions for the social network with the promise of getting away from one of his most popular sambenitos. "We are no longer just a photo sharing app." The platform will pay special attention to the short, vertical and entertainment video trend, thus competing with TikTok or Twitch. According to Mosseri, in the coming months Instagram will work on the development of four areas: instant messaging, video, its creators and the shopping and e-commerce platform.
Meanwhile, Instagram still takes a huge advantage – of millions of users, a well-known name and brand and the endorsement of a giant like Facebook – over its opponents in the race to be the most popular, healthy and reference space to share and interact with Photographs.
You can follow EL PAÍS TECNOLOGÍA at Facebook Y Twitter or sign up here to receive our weekly newsletter.