New Delhi
Congress supported the Kisan Mahapanchayat held in Muzaffarnagar in Uttar Pradesh on Sunday. Congress leader Rahul Gandhi and party general secretary Priyanka Vadra also tweeted in support of the Mahapanchayat and targeted the central government.
Rahul said, 'You have to listen to the call of truth, unjust government.' Congress General Secretary Priyanka Gandhi Vadra said that the arrogance of any power does not play in front of the farmers' voices. Thousands of farmers from Uttar Pradesh and neighboring states gathered in Muzaffarnagar on Sunday for the 'Kisan Mahapanchayat', which according to them aims to 'save the country'. The mahapanchayat was organized a few months before the crucial assembly elections in Uttar Pradesh.
The program was organized by the United Kisan Morcha (SKM) at the Government Inter College Ground in Muzaffarnagar to protest against the agricultural laws of the Centre. Priyanka Gandhi also raised her voice in support of the Mahapanchayat and said, 'Farmers are the voice of this country. Farmers are the pride of the country. There is no arrogance of any power in front of the farmers' voice. The whole country is with the farmers in the fight to save agriculture and demand the right to their hard work.
The Mahapanchayat reminded the boat club rally, three decades ago Rakesh Tikait's father shook Delhi, the government bowed before the farmers
Congress chief spokesperson Randeep Surjewala said that those who stole the farm and barn of the farmer are traitors. Supporting the mahapanchayat, senior Congress leader Sachin Pilot expressed confidence that the mahapanchayat organized under the leadership of the United Kisan Morcha would prove to be strong for the farmers.
Pilot said in a tweet in Hindi, 'I am sure that the #Muzaffarnagar_Kisan_Mahapanchayat organized under the leadership of United Kisan Morcha will prove to be a motivator of farmers' interests. May this mahapanchayat prove to be a milestone in the direction of peaceful farmers' movement – my best wishes.
Samyukta Kisan Morcha, a conglomerate of several farmer unions, has been leading the movement against agricultural laws since last year. The government has emphasized that these laws have given farmers a new opportunity to sell their produce and rejected criticism that they are aimed at abolishing the minimum support price system and agricultural markets.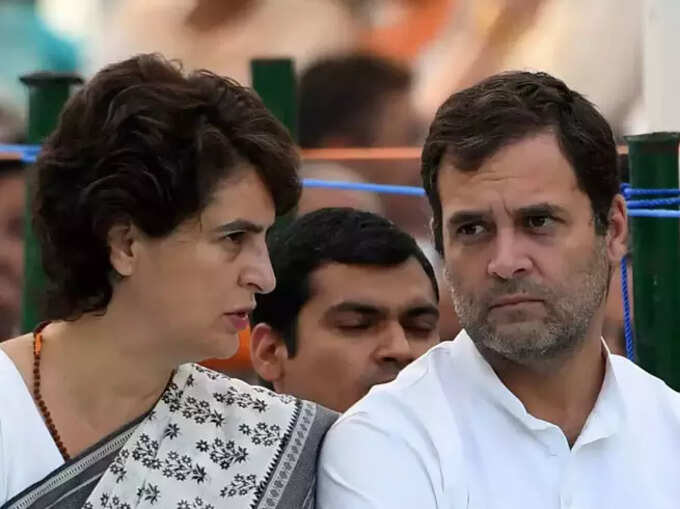 Priyanka and Rahul Gandhi (file photo)
.