Lucknow
Political parties are trying to correct their social equations regarding the assembly elections to be held in Uttar Pradesh. In such a situation, Bahujan Samaj Party (BSP) is also seen walking on the path of Hindutva on the lines of BJP. Its hallmark has been seen in the tribute meeting of Kalyan Singh, former Chief Minister of UP. Party General Secretary Satish Chandra Mishra reached there and in the speech described Kalyan Singh as a leader who remained firm on his point.
Well this is not the first time. There are many such instances in which the BSP's inclination is now visible towards Hindutva. According to political analysts, Satish Chandra Mishra did not reach the tribute meeting just like that. It has many other meanings. Kalyan Singh was considered a strong Hindu leader with backwards, because this meeting was not organized under any party and banner. The event was organized by Bhaurao Deoras Trust, which looks after the Sangh.
Party General Secretary Satish Chandra Mishra has given a big message by joining on this occasion. Even before this, he had started the enlightened conference by making proper attendance at the Ram Lalla court in Ayodhya. Slogans of Jai Shri Ram and Jai Parashuram were also raised in his meeting. There was also a bell's conch shell. Saints also appeared on the stage with Vedic chants. A message was given to these centers of Hindutva faith by holding conferences at places like Ayodhya, Mathura, Kashi, Chitrakoot.
Kalyan Singh Tribute: Satish Mishra of BSP reached Kalyan Singh's tribute meeting, SP leader was absent
BSP will do election conch shell with Brahmins in Ramnagari Ayodhya today
The address at the enlightened class conference was not limited to politics, but the plight of these religious places was extolled by raising the flag of Hindutva from the stage. On the coming of the BSP government, assurance has also been given for the overall development of Ayodhya, Kashi and Mathura and all the religious places of UP. A BSP leader, on the condition of anonymity, said that the line taken by the BSP may scuttle the party's minority votes, as the party has just taken the line of solidarity of Dalits and Brahmins. But by going to religious places, starting conferences or other decisions, there are efforts to please any one religion in it.

UP Politics: BSP steps up in Brahmin politics of UP, entry of Satish Chandra Mishra's wife
Senior political analyst Rajiv Srivastava says, "Since 2014, the BJP has given edge to the issue of Hindutva. The party has been running for many years regarding this issue. Due to this, he has also formed the government at the center and the state. One thing has become clear from this that there is a loss in doing politics of anyone other than Hindu. It would be easier for the majority of the population to take power with him. There is not much benefit in cultivating a particular class. In the power that BSP got in 2007, upper caste politics was done. To come to power, talk about other classes, but it is difficult to do politics by ignoring Hindus. BJP has shown this path to everyone since 2014.
Video: BSP preparing for Brahmin conference in Vikas Dubey's stronghold

Satish Chandra Mishra's wife will help Brahmin women, know who is BSP's 'trump card' Kalpana Mishra
Another analyst Abhishek Bajpai said, "The BSP has understood that only doing politics of Dalits cannot help the party. This is the reason why the party knows that the Brahmin-Dalit equation is a key to coming to power, from which it has already tasted victory and formed the government.
BSP's state spokesperson Dr. MH Khan said, 'BSP talks about Sarvajan Hitay Sarvajan Sukhay. Hindu is a little different from any society. Neither Hindu nor Muslim is different. Dalits will be killed and beaten up in the name of Hindu, it is so true. The Enlightenment Conference is not a Hindu convention. Kalyan Singh has been a former Chief Minister of the state and it is a good tradition to attend his meeting.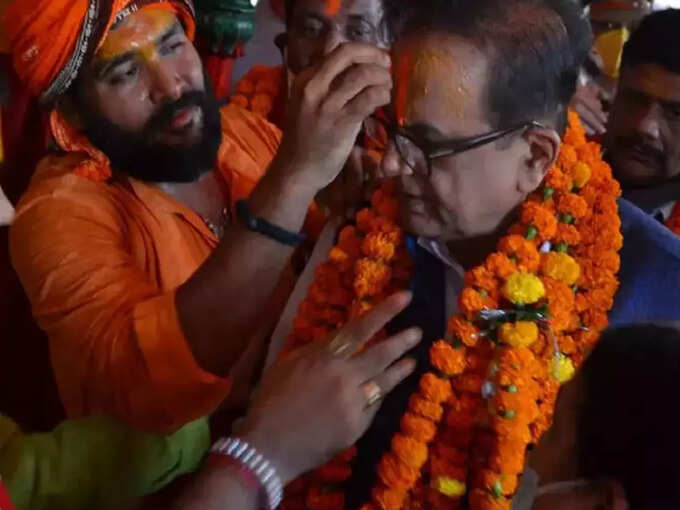 Satish Chandra Mishra (file photo)
.