Borja Mayoral (Parla, Madrid; 25 years old) moves relaxed through the corridors of the Coliseum Alfonso Pérez. There he arrived on loan in the winter market after six months of ostracism in Mourinho's Roma, who hardly had him despite the fact that the previous season he had scored 17 goals in the Italian capital. With the azulón team he is not a fixture in the eleven, although he has already scored four goals, the last one last weekend to defeat Mallorca. This Saturday (9:00 p.m., Movistar LaLiga) he returns to the Bernabéu, his maternal home and where he could return next summer when he finishes his loan. He is hopeful.
Ask. He left Madrid on loan two years ago and they are still looking for a substitute for Benzema.
Response. There's Jovic, Mariano… They always say the same thing, but they always have people.
P. At the moment, it does not seem that any of them have convinced Ancelotti. How many times has he imagined himself there?
R. Many, many. Madrid is Madrid. The opportunity to play there is incredible, and I have lived it.
P. He spoke with Zidane before going to Roma and was very close to staying. Do you see yourself there again?
R. In the future, yes. The following summer he would have to return to Madrid and we will see.
P. Do you face the match at the Bernabéu as a personal vindication?
R. More than a specific day, these six months at Getafe can mark me more. Last season I showed in Italy that I can do numbers. That's for something, something I have to have. The first part of the year in Rome has not been what I expected and that is why I came here, to let myself be seen.
"Now Benzema is more of a boss in the locker room and works more without the ball"
P. He shared an entire season with Benzema, 2017-18, which was Cristiano's last at Madrid. He scored 12 goals that year. How do you explain this jump?
R. He has taken an incredible step forward since Ronaldo left. In an interview he has said that he had to adapt to Cristiano, help him score goals. Now I see him more mature, more boss in the locker room. The change has been brutal. He also works more without the ball.
P. He too became a victim of Mourinho. What happened to you with the Portuguese?
R. Nothing weird. I spoke with him at the beginning and told him that I would like him to count on me, that I was going to show him the player that I am, but at the end of the market he signed two forwards [Tammy Abraham por 40 millones y Shomurodov por 18], a lot of money was paid for them and since then, zero. I went to a third level.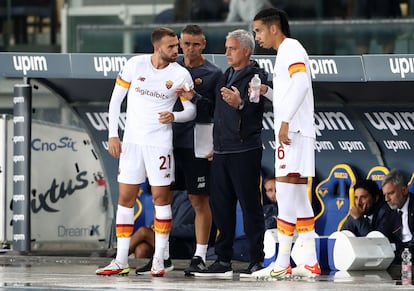 P. He is 25 years old, he has been chaining a series of teams and countries. Does the lack of stability affect you?
R. I am grateful to be so many years in First Division. There are others who do not arrive until they are 27 or 28. I have been in the elite since I was very young, but it is true that I would like to find that stability. Four or five years of contract and evolve in the same club. I haven't reached my ceiling yet. Last year I scored 17 goals with 58% of the minutes. There's something there, right? But I'm not satisfied, I can give more.
P. What is Getafe giving you now?
R. Many things. After the last six months in Roma with hardly any opportunities to show myself, Getafe is giving me that. And then return to Spanish football, home, next to Parla, with my parents. I started near here, in Parla, 12 minutes away by car. When you are away from home and you are not comfortable, you miss the warmth of your people. Once a week I go to eat at my parents' house.
"Last year I did numbers in Italy. I must have something, right?
P. Del Parla went to Madrid, with whom he made his entire career in the lower teams. How many companions were going to eat the world and then fell by the wayside?
R. Ugh, many. This is a conversation I have a lot of times. Of my generation, three or four are in professional football, in the Second Division and some in the First Division. But for fingerlings, infants, cadets and youth many pass, and in the end we are privileged, some chosen.
P. Why have you arrived and others have not?
R. If you arrive and others don't, it's because you've done things that the rest haven't. In my case, I have been very consistent. I remember that in children and cadets I did not play, but I have always been a hard worker and I have trusted myself. There are people who give up in the face of difficulties. I pass it really bad. When I was 13 and 14 years old I grew a lot, I got dizzy and I ran out of iron. I remember a coach, Juanjo Vallina, who is still in the youth squad at Madrid, and he told me that the important thing was that I keep working because at 18 and 19 years of age physicality was equal and talent became more important. Then you have an innate talent that God gives us, but you have to do other things on and off the field. The head is also important.
"Right now I need you to give me love"
P. He has not been a starter with Getafe in recent games. What does Quique Sánchez Flores tell you?
R. It is close to us. When we arrived [en invierno junto a Gonzalo Villar y Óscar Rodríguez], the team was on the rise. And out of respect for the teammates who have been there all season and who had come out of such a bad situation, when there is the slightest doubt about who he takes out, he will shoot more for his. But Quique teaches us a lot tactically, the team is very hard-working.
P. Do you like to be given affection or to be teased?
R. That they give me cane, but that, when I answer, they give me love. Now I feel like I need more love. I have arrived, I have scored goals and I feel good.
P. Who understands a striker?
R. A striker. The coach too, but we understand each other more.
You can follow EL PAÍS Sports in Facebook Y Twitteror sign up here to receive our weekly newsletter.
Exclusive content for subscribers
read without limits