When João Bosco Siqueira turned 45, his colleagues in the military fire brigade gave him something invaluable: locating his mother. That unknown was the key to the origins for this Brazilian who was born in a madhouse and grew up in an orphanage. Mission Accomplished. The hug that Dona Geralda and her enraptured son so longed for took place on November 11, 2011 in a barracks, in front of the emotional gaze of dozens of uniformed personnel. An end to both their lives. Geralda was 15 years old when she gave birth at Hospital Colônia de Barbacena, in Minas Gerais, 500 kilometers from São Paulo. Her boss, a lawyer, took her there to avoid the scandal after raping her and getting her pregnant, says Siqueira in a video interview. The pain of remembering the drama is such that he stops several times to contain his tears and take a breath before continuing his story. Before and after it, tens of thousands of Brazilians were abandoned in asylums in Barbacena, which became known as the city of madmen.
Most inmates, like Geralda, were sane. They were alcoholics, syphilitics, prostitutes, homosexuals, epileptics, single mothers, wives replaced by a lover, nonconformists… supposed social scum that their families or the police sent on trains to this city in Minas Gerais. About 60,000 inmates died of starvation, cold or diarrhea for nine decades until closure in the 1990s. They lived poorly, naked, forced to work as supposed therapy in outdoor patios or in cells.
The anxiety that the pandemic's confinement has caused millions of people around the world has rekindled the debate over mental health and the stigma that still surrounds it. A secret that idols like gymnast Simone Biles or tennis player Naomi Osaka help to break through when talking about their mental problems.
Barbacena draws attention because, instead of burying the infamy perpetrated in the name of psychiatry, the authorities agreed to look her in the eye. They transformed one of the Colonia's pavilions into the Museu da Loucura, which now celebrates its 25th anniversary, an anniversary that, together with a series, brought the subject back to the present day. And, in line with the international movement for the humanization of care for the mentally ill, from the year 2000 onwards they undertook a transcendent change.
This city that lived off psychiatric hospitals and rose growing replaced those unwanted deposits with therapeutic residences. "Until then there was no limit. Everyone who appeared at the door entered. We started evaluating them one by one and most did not need to be hospitalized. Admissions dropped from 130 per month to 30", explains Flávia Vasques, coordinator of the public mental health network in this city of 140,000 inhabitants, during an interview at an outpatient clinic.
The museum is a journey through the atrocities suffered by thousands of patients, some in line with international practices. "They chose to call it the Museum of Madness to arouse the interest of the public and for not referring only to a local history, but for being a reference to analyze the past, preserve it and not repeat it", explains the director of the museum, Lucimar Pereira, as he guides the visit.
Taking advantage of the mountain climate, it was born as a sanatorium for the rich, with telephone and silver cutlery, but in 1903 it became the first mental institution in Minas Gerais, which centralized psychiatric care in this state, which has the same area as Spain, in Barbacena.
The Colony was an insane asylum with a cemetery, evidence that healing was not the mission. For decades there were no doctors or nurses, but mere guards. The treatment was simple: blue or pink pills depending on the symptoms, in addition to electroshocks and lobotomy, as the medicine ordered at the time.
When there was no space to sleep, bureaucrats adopted a solution called a single bed, which they recommended extending to other centers: out with the beds, eliminated. Without them, more patients could fit. The inmates slept huddled on the floor to keep warm on cold nights. Some died of suffocation. Often the sane went mad. And not even after death they had pity on them. The corpses of more than 1,800 patients were sold to universities until the 1970s. The rest was carted to the cemetery to be dumped in mass graves. The cemetery is still there, closed, but a plaque promises to one day turn it into a memorial that will combine roses and madness. They were fed rotten purees because they banned the cutlery—in the name of safety—so that after decades of not chewing many lost their teeth.
"Today I was in a Nazi concentration camp. Nowhere have I seen anything like this", declared, after visiting the Colony in 1979, the psychiatrist Franco Basaglia, promoter of the reform of asylums in Italy. Local journalists made the first public denunciations in the 1960s and 1970s. His photos and reports were astonishing, but they soon faded into oblivion. Journalist Daniela Arbex was an adult when she first heard about the atrocious episode in local history. "I went to look for the survivors. And thanks to them I was able to rescue what was happening behind the walls", explains the author of the book by telephone. Brazilian Holocaust, published in 2019. A bestseller that helped to publicize a horror that many Brazilians have never heard of. She insists that everyone was accomplices: doctors, families, residents, society in general…
Siqueira tells in the city where he spends confinement with his family that his mother, Dona Geralda, still lives in Barbacena. They saw each other every month until the coronavirus disrupted everything. The firefighter is irritated that some residents believe that publicizing the atrocities damages the local reputation. For him it's the best antidote to prevent anyone else from being treated so inhumanly. "Despite being born into barbarism, I am the result of a network of solidarity", he insists, referring to the nuns and other adults in the orphanages, who guided him when he was a teenager and envied those who received a visit.
Bento Marcio da Silva always had a family. But he spent half of his 57 years in and out of psychiatric hospitals, including Colonia. He speaks naturally of his illness —"I'm bipolar"— and of the battle for psychiatrists to change his medication, which for 15 years has caused him terrible side effects. He tells between laughs that in his moments of euphoria he sang, sang, sang and sang without rest. The answer? "They tied me to a stretcher, gave me injections here, here, here and here, and kept me there all day. It ended up completely soaked with urine and fluids. 'If they give me Aldol, I'm going to lose my mind,' I told them, but they insisted," he says. Nobody listened to him then. For years it wandered the roads of Brazil to avoid being closed again. "I even had such a long beard that they called me Bin Laden," he says. An image that contrasts with its painstaking current elegance.
Silva lives in a therapeutic residence that on Tuesday was celebrating because Zezé, one of the seven patients, turned 60 years old. It's exciting to see these abandoned and degraded men for so many years concentrating on holding the cutlery to bring a piece of cake or a cup of caffeine-free Coke to their mouths. In the ecstasy of joy, Zezé laughs so loudly that he dislocates his dentures. With their many sequels, they seem immensely happy as they sing "Happy Birthday". They are no longer afraid of strangers or of going out on the street. And the city's residents aren't afraid of them either, explains Leandra Melo Vidal, coordinator of the 27 residences spread across Barbacena, who knows in detail the stories of each one. They adore her.
Some of the survivors are very dependent, but the change experienced by others is impressive. "With rehabilitation, they recovered human capacities such as choosing", deciding when to take a shower or what clothes to wear. It was difficult for them to abandon the routines of the intramural years or assume that they could accumulate belongings, eat at will. At first, the therapists believed that some were mute because they didn't say a word for 50 years —"maybe to protect themselves," ventures Vidal—until one day they regained speech.
Through programs financed by the public health system, they left behind a life in inhuman psychiatric hospitals to live old age together and with dignity. There are legally, receive a pension. The process of emptying hospitals continues. The 85 chronic patients who are still hospitalized will be distributed to neighboring municipalities due to the saturation of Barbacena.
When Geralda was fifteen years old and protested heartily that her baby had been stolen, she was treated with electroshock. "Crying and protesting won't do any good, you won't see him again," they warned her then. Firefighter Siqueira, who gave her two grandchildren, is happy that she has no more serious injuries: "God was generous with my mother, who is a simple woman, because if she had been aware of the violence she suffered, she would have gone mad".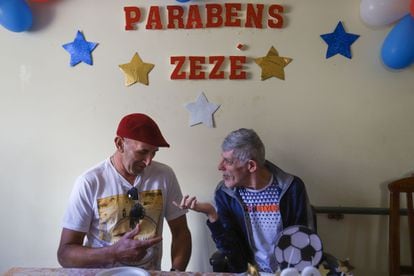 Support news production like this. Subscribe to EL PAÍS for 30 days for 1 US$
Click here
Support our journalism. Subscribe to EL PAÍS by clicking here
sign up on here to receive the daily newsletter of EL PAÍS Brasil: reports, analyses, exclusive interviews and the main information of the day in your e-mail, from Monday to Friday. sign up also to receive our weekly newsletter on Saturdays, with highlights of coverage for the week.