Nicaraguan journalists imprisoned, persecuted and forced to live in hiding or in exile, reporters harassed and persecuted in Guatemala, crimes against the press that go unpunished in Honduras and systematic attacks by President Nayib Bukele on independent media in El Salvador. Central America is the ultimate exponent of the "constant deterioration" of press freedom in Latin America, and no government in the region seems willing to try to combat it, warns Spaniard Carlos Martínez de la Serna, program director for the Committee for Protection of Journalists (CPJ).
Speaking by telephone from New York to EL PAÍS, Martínez de la Serna observes that the situation is "very serious" for local populations and that it is necessary to generate international awareness about what is happening in these countries. "Because of the systematic blackmail of the press in the region, there will be less and less independent information available about what is going on, and authentic black holes are being generated. There will come a time when we will know very little about what is happening", he says. To understand the consequences of the demise of journalism, CPJ's program director insists on looking to other regions of the world where this has already happened, such as Afghanistan, where the Taliban's rise to power dismantled the free press in a matter of months, or a few regions of Mexico, where there is enormous impunity for violent acts that prevent journalists from doing their jobs. This is also the case in countries with authoritarian regimes in the region, such as Cuba and Venezuela, where journalism cannot be freely practiced.
Threats to the press in the region will be one of the topics discussed starting this Thursday at the Central American Journalism Forum, an event organized by the Salvadoran digital media El Faro, and that this year is distributed between Guatemala, Honduras and El Salvador, and in a virtual way. "We are not so far from starting to see these situations in Central American countries. In some cases it is already something very dramatic, as we see in the impressive deterioration in El Salvador or Nicaragua in recent years", warns Martínez de la Serna.
This Sunday, Nicaragua holds presidential elections widely branded as fraudulent, after President Daniel Ortega ordered the arrest of dozens of opponents of his government, including potential presidential candidates. In addition, the independent press has seen an increase in attacks against itself in recent months, with newsrooms invaded and journalists harassed through laws that seek to silence critical voices. There are currently more than 150 political prisoners in the country, among them Miguel Mora, former director of the 100% Notícias channel, raised to the pre-candidate of the opposition, Juan Lorenzo Holmann Chamorro, general manager of the newspaper la press, and sports journalist Miguel Mendoza. "There is a systematic attack on these fronts that to some extent culminates in the November 7 elections to dismantle and wipe out the press. There are dozens of journalists in exile because of this, and many of them in the country are under surveillance or with their activity very restricted for different reasons", warns Martínez de la Serna.
The strength of journalists in exile
One of them is Jennifer Ortiz, director of the independent site Nicaragua Investigates, who in June of this year decided to go into exile in Costa Rica for the second time. The first was after the repression of protests in 2018, when he was threatened, he was the target of paramilitary surveillance and his family's house was attacked with Molotov cocktails. In June of this year, he began his second exile to ensure the continuity of his vehicle. "Several government spokespersons accused me of laundering money, of supporting what they call a coup d'état, and accused the vehicle I founded and run of violating the cybercrime law, which is a law passed for their convenience to criminalize the work of the independent press," he says.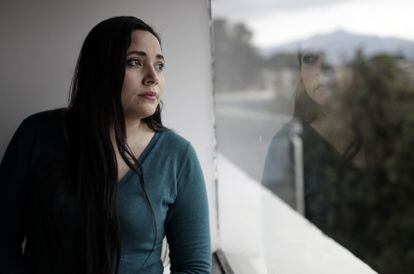 Ortiz compares fieldwork in Nicaragua to journalism in a war zone. "You come out aware that they can beat you and that this could be the last day you go out for penthouse, because you can be murdered, kidnapped or arrested," she says by phone from Costa Rica. Reporters, he adds, are liable to have their equipment stolen, their cell phones checked, their work vehicles seized, or that at any time a campaign of harassment begins against them. "They know that you will be a public enemy of the Government, and it is a Government that is prepared to do something to defend power." Before leaving Nicaragua, she took refuge in several safe houses, where she lived clandestinely. Practicing their profession in these conditions also led their daughters to lose two years of school due to constant changes, and their family had to stop talking to some friends so that they would not suffer reprisals.
Daniel Ortega's strategy of silencing dissident voices has also resulted in fewer and fewer sources of information: many who dared to question the Government are in prison, while others have decided to stop talking so as not to end up in prison as well. "It's a huge challenge for independent journalism to be able to continue practicing journalism in this context", says the director of Nicaragua Investigates. From her exile, she continues to manage the coverage of her vehicle and coordinate the team that remains in the country, so that they can carry out their work with the greatest possible guarantees. "They are trying to document the country's history, at the risk of their own life and normality", he points out.
In Costa Rica, which hosted much of the Nicaraguan exile, including journalists, many of them face economic and migratory difficulties. As Ortiz explains, achieving refugee status can take several years. "We live in a kind of bubble. Despite being in Costa Rica, our home is like a small Nicaragua where we are immersed in what is happening in our country. We are working online for our own platforms, so this somehow saves us the hassle of these slow migration procedures, because we don't have to work here in Costa Rica. But for refugees who need to work here, this is extremely challenging," he says.
CPJ's Carlos Martínez de la Serna points out that in cases such as Nicaragua, but also in Cuba and Venezuela, there is journalism thanks to a "really memorable" effort by journalists: those in and those in exile, such as Ortiz, "who do everything possible to continue informing". "They leave because it is the only way to continue exercising their profession with a minimum of security, but they are carrying out a fundamental job", he says. In this sense, he urges governments to support them with visas so that they can continue working.
Mexico, Brazil and the hope of independent vehicles
Outside Central America, the CPJ director sees throughout the region "serious problems" related to leaders who do not protect and even attack press freedom, as is the case in Mexico, which tends to top the world list of journalists every year. murdered, and Brazil. "The situation in Mexico is dramatic enough for the country to lead a response that implies the appreciation of journalism, the protection of journalists and the importance of their role. On the other hand, we have a president [Andrés Manuel López Obrador] who dedicates his time to a rhetoric that half criminalizes, half trivializes, instead of dedicating himself to very concrete problems."
In the case of Jair Bolsonaro, Martínez de la Serna compares what happens in Brazil with what happened in the United States of Donald Trump. "It is a politician who uses or incorporates as part of his political strategy the systematic attack on the press, without the intention of improving and contributing to a constructive dialogue about democracy, but with the sole intention of criminalizing and disabling it ", he says. "The difference is that, just as happened in the United States, in Brazil there is a very active panorama of civil organizations, digital rights and the press, and they are capable of withstanding these clashes", he adds.
Given the lack of leadership in the region's governments to defend press freedom, several independent initiatives are emerging to foster journalism and critical citizenship. This is the case of the digital vehicle Contracorriente, from Honduras, which was founded in 2017 and this year published part of the investigation of the Pandora Papers, being recognized with the prestigious Maria Moors Cabot award in the United States. "In Honduras, journalism is a risky career. We also face institutional blockage, lack of transparency and lack of access to public information", says Jennifer Ávila, one of its founders, who saw the need to open up space despite the blockade or hostility of actors who traditionally wield power, in a country "not so receptive" to journalism.
"We understood that creating an independent media would require a process of public education and training of a new generation of journalists," adds Ávila. "We don't want to be a mass media, and have an audience formed and that understands that citizens must be involved in the auditing processes, and that journalism serves for that and to generate a democratic culture."
sign up on here to receive EL PAÍS Brasil's daily newsletter: reports, analyses, exclusive interviews and the main information of the day in your e-mail, from Monday to Friday. sign up also to receive our weekly newsletter on Saturdays, with highlights of coverage for the week.