Tokyo
Tensions between the US, China and Russia are increasing in the eastern Pacific Ocean. After the continuous infiltration of American nuclear bombers and warships, now Russia along with its friend China has started siege of this entire area. At present, 10 warships of Russia and China are patrolling around Japan. It is feared that soon the navies of US-Japan and Russia and China may come face to face in the East China Sea, the Sea of ​​Japan and the South China Sea.
Russia-China warships increased tension in the area
Defense website D Drive reported that even though the warships of Russia and China may not be able to completely encircle Japan, it definitely shows the ability of the navies of both countries to work together. Just a few days ago, the navies of Russia and China started joint exercises in the Sea of ​​Japan. The objective of this exercise is to enhance the joint action capability of the Navy after the Army and the Air Force.
Quad vs Chinese Navy: Warships, Submarine and Aircraft Carriers… How Powerful is the Chinese Navy Compared to the Quad Countries?
Japanese Defense Ministry increased surveillance
The Japanese Defense Ministry said it monitored Chinese and Russian ships passing west between Smith Island and Torishima Island. This area is an international watershed 300 miles south of Honshu. These 10 warships of China and Russia first patrolled the Pacific Ocean on 18 October. After this they came to the eastern area through the Tsugaru Strait. This strait separates Honshu and Hokkaido from each other.

China Japan Tension: Chinese submarine incursions into Japan's territory, Erlat Tokyo sent destroyer warships and aircraft
Russia-China patrolling international waters
Japan also said that Russian and Chinese warships remained in international waters during patrols. It also includes the area of ​​the Tsugaru Strait. The area is only 12 miles wide at its narrowest extent. Any country can decide its territorial waters i.e. territorial water from a maximum of 3 miles to 12 miles from the coast. Only ships from friendly countries can enter this area with permission. Although Japan claims only 3 miles of this strait as its territory.

China at risk of attack on US Naval Base Guam? Deploying Israel's Iron Dome
Japan reduced its water limit because of America
America is also behind Japan's keeping its territorial waters only 3 miles. Japan has such a law that no nuclear-powered warship or submarine of any country in the world can enter its territorial waters with nuclear weapons. The US Navy's Seventh Fleet is also headquartered in Japan. In such a situation, Japan has kept its territorial waters only 3 miles for the safe movement of American nuclear submarines and armed warships.

Nuclear Submarine: Which country in the world has how many nuclear submarines, how much is China ahead of India?
America's responsibility to protect Japan
The US had made a pact to protect Japan after a nuclear attack during World War II. The treaty was signed between Japan and the US on 8 September 1951. It is also known as the San Francisco Treaty. There are 5 articles mentioned in this treaty. It also includes the right for the US to build its naval base in Japan. In this, an attack on Japan will be considered an attack on America and the US Army will protect Japan.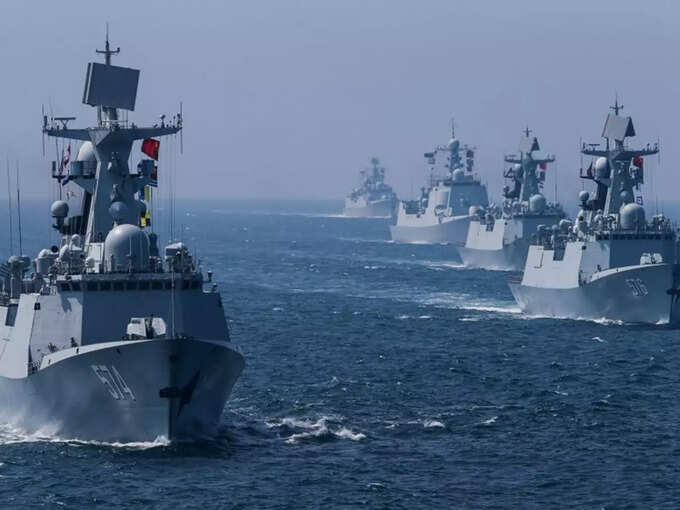 Russia and China warships (file photo)
.